A delicious and simple roasted vegetable quiche with a cheddar crust. Quiche is such a brilliant way to use up any leftover vegetables, especially at the end of the week when food provisions are looking a little depleted. It is filling and great for lunch or dinner. It can be sliced and enjoyed on the go, served at a picnic or a family lunch. You can choose whatever roasted vegetables you want. I find red onion, pepper, broccoli and courgette to be a great mixture. I try to stick to lower carb vegetables, just because they work best with my blood glucose and insulin requirements, but please do use whatever suits you. If you would rather not roast, you can pan fry / wok them. They just need to be soft so that they aren't raw in the quiche.
It feels like a real treat to be able to eat quiche. As a t1 diabetic I have to think about everything I eat and drink on a minute by minute basis. Everything effects my blood sugar levels, especially foods higher in carbs, so it is a personal choice that I try to stick to a lower carb diet. Please don't confuse low carb to NO carb. The amount of comments I see suggesting those that eat low carb are consuming no carbs at all, is very misconceived.
This is such a simple and delicious roasted vegetable quiche with the most delectable cheddar crust. For those who require carb content, the crust and filling (minus the veggies) come to 0.5g carbs per slice, based on 8 slices.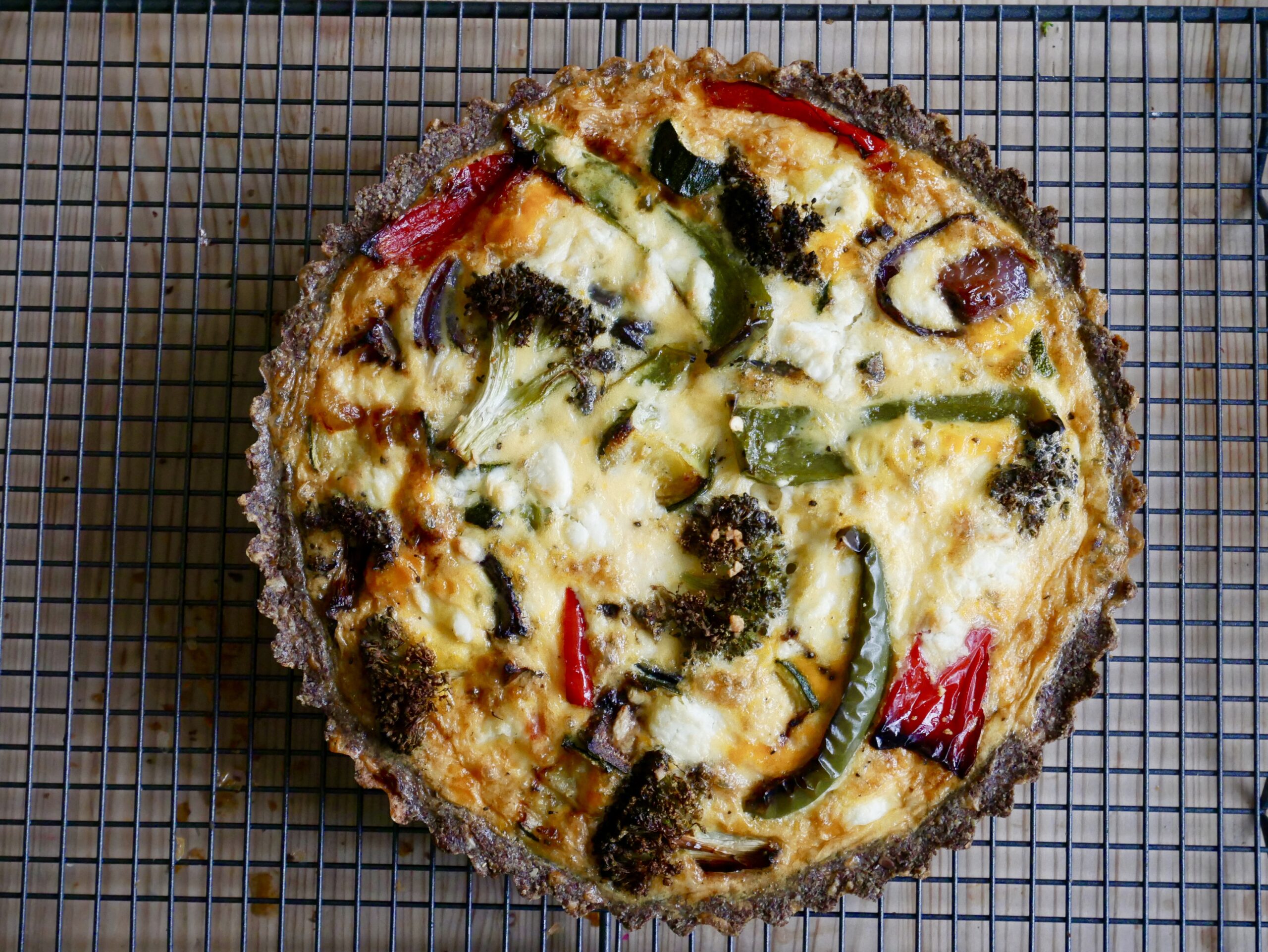 Roasted vegetable quiche with a cheddar crust
A delicious quiche with a cheddar crust.
Author:
The Low Carb Kitchen
Recipe type:
Quiche, savoury
Ingredients
Base:
150g ground linseed (or any other seed)
70g cheddar cheese, grated
½ tsp sea salt
2tbsp olive oil
approx 5tbsp water
Mixture:
6 eggs
3tbsp coconut milk (from a tin)... (could be replaced with cream)
pepper
2 cups worth of roasted veggies
optional: 50g feta (more or less, depending on what you like)
Instructions
Preheat oven to 180C
Start by making sure your vegetables have been roasted. (read notes)
Base:
In to a mixing bowl, place ground linseed, cheddar, sea salt and olive oil. Combine ingredients together.
Add water, little by little until you have a dough. I have put approximately 5tbsp water, because you will need to judge how much you need to form a dough.
Press the dough in to a quiche / pie dish.
Prick it with a fork.
Pop it in the oven for 10 minutes to blind bake.
Remove from the oven.
Filling:
In to a bowl, place the eggs, coconut milk and pepper. Whisk together.
Pour the mixture in to the pastry crust. Add in the roasted vegetables and crumbled feta.
Place, carefully in to the oven for 20-25 minutes, until the mixture has turned solid.
Carefully remove from the oven and allow to cool.
Notes
It will keep in the fridge for up to 3 days.
You can replace the ground brown linseed with ground seeds.
Tips on roasting vegetables:
Roast some chunky chopped up veg (eg. red onion, courgette, pepper, broccoli etc) tossed in olive oil with a sprinkle of sea salt for 40 mins (flip the veggies 20 minutes in).
For 100 low-carb recipes, meal plans and lots of info as to the benefit of a low-carb lifestyle (especially for those with diabetes), then you can order a copy of our book here.