I literally cannot believe how quickly the weeks are starting to fly by now and technically there are only 3 full months left before the baby is officially meant to be evicted from its current womb residence. Still feeling massively under prepared but I am writing lots of lists of "baby things to do".
We visited a place called Stourhead the other day, which is run by the National Trust, it was a beautiful day and we walked around the lake and grounds and had a little picnic. All I could think about and picture was the moment we have our little bundle and go back there as a family. I keep fantasising about those moments and just can't wait for it to be reality!
At the end of this month we are heading off for one of my best friend's wedding in Majorca, where I will be a bridesmaid. I am a little bit nervous about flying (I'll be 28 weeks pregnant) and being in a foreign country so far from my hospital and the specialists I trust so much. I am sure it'll all be fine, I am certainly looking forward to getting some sun on my alabaster skin and to the long, light and warm evenings.
Once we're back we will be starting the NCT course too which I am excited to start, especially in the hope of meeting some local mummy-to-be / daddy-to-be friends!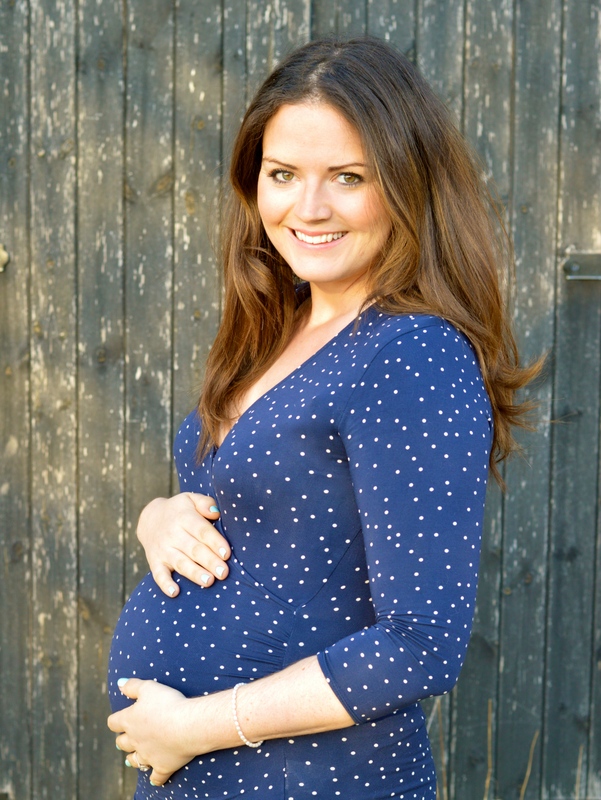 So here's the latest update at 24 weeks pregnant!
Weight: I am 1/2 a kg less than my pre-pregnancy weight. If I hadn't had the hyperemesis gravidarum I can't even imagine what weight I would be by now!
Bump: Bump is getting bigger by the day, it's very round which I love and there's certainly no mistaking that I am pregnant!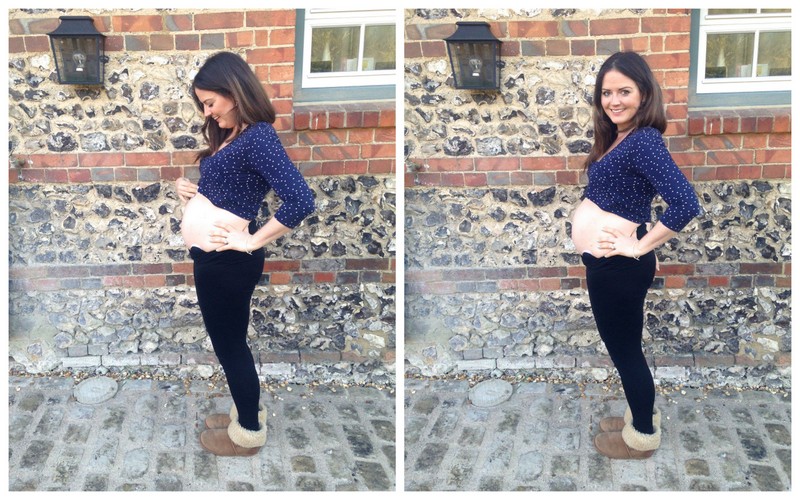 Symptoms / feelings: Last week (23 weeks) I had a solid week of crying and being really inconsolable. I couldn't snap out of it and felt pretty much hopeless, but this week has been the complete opposite. I feel really happy, calm and excited. I have even started dreaming about the bump as an actual baby, here with us.
I'm noticeably weeing a LOT more, especially during the night I have to get up at least 10 times. My blood sugars are still very low so it's nothing to do with them.
I am finding sleeping and getting comfortable much harder, especially trying to get in to the right position. I mostly lie on my side with a Tempur pillow shoved between my legs (glamorous, I know).
I am getting lots of occasional sharp pains down my bump sides and around the bottom of the bump, but I think these are all growing pains.
Sickness: Nothing this week
Cravings: None at all! I am mostly eating lots of salads, smoothies, avocados, nuts, seeds and eggs at the moment. I still feel quite funny about red meat and I still can't be too near the smell of coffee.
Baby Movement: So much, and it's incredible and the most amazing / unusual feeling. There have been lots of times when the baby has kicked / moved and I have quickly got Ports to put his hand on my tummy so he's felt it too. The baby is very active especially at night before I go to sleep and it feels like it's getting stronger by the day!
Scans: I had my 24 week scan this week. It was a detailed heart scan especially for diabetic mothers. It went really well. The baby was moving around a lot and everything (head, heart, stomach etc) was in line with the current week that I'm on. There is a danger that with diabetes – and if you have higher blood sugars- that the baby might be bigger but hopefully if I can maintain good control then it'll all be ok! The plan is to currently have a natural birth but as with any plans, they are always likely to change!
Stretch marks: None, yet!
HBA1C: 4.5%
Belly button in or out? In but very stretched!
Maternity clothes: I have some new knickers (!!) from George at ASDA which are the comfiest thing I have ever owned…they are really feminine too with a lace band, they aren't maternity but I got them 2 sizes bigger than my usual size which works well. I also have a couple of new tops (here and here) from George at ASDA which are really loose and perfect for this summer weather we're having. I'm still mostly wearing leggings but with it getting warmer I would like to get some shorts and summer dresses.
I am also living in a couple of non-maternity polka dot tops from Boden (in pictures); they are really soft, perfect for the bump and make me feel feminine too. The tops I have are in my usual pre-pregnancy size and have a great stretch to them.
The ones I have are a couple of seasons old but here are some similar ones, I especially love the patterned ones: (click on the photo to go straight to the website)
Generally I find most maternity clothes that I have seen so far hideous….most are completely shapeless or just ridiculously overpriced just because they are maternity! At the end of the day, so long as clothes have got a stretch in them then I'm just sticking to non-maternity stuff as at least I can then wear it once the baby is born too.
I will however to have to invest in a maternity swimsuit / bikini for Majorca as there's no way I could possibly wear what I already have!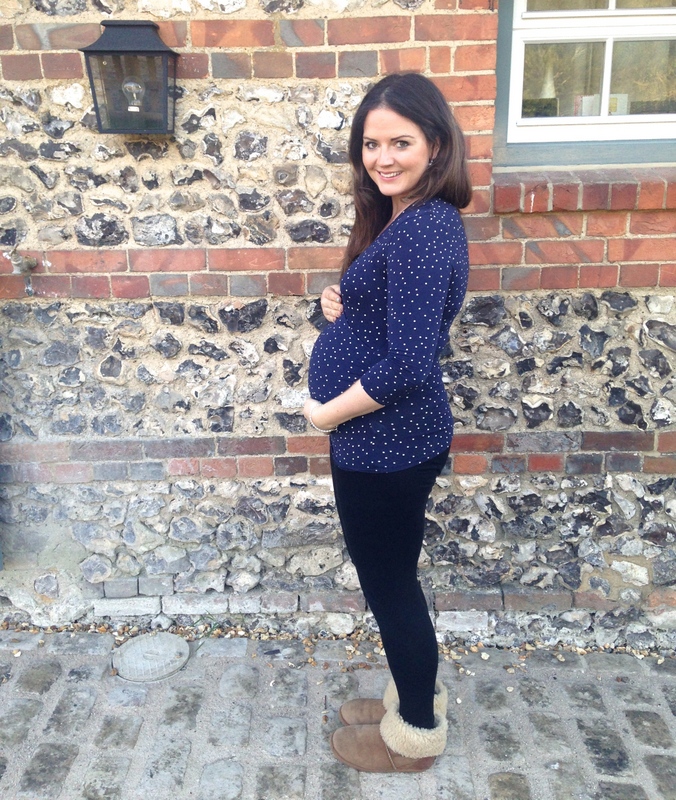 Exercise: I've missed the last 2 pregnancy yoga classes which was frustrating, but instead I have been walking non stop. I go off for about an hour a day when I'm on my own and hill walk which is so good for my sugars. With Ports we have been swimming and also doing some light circuits / weights….nothing too strenuous but given I have to be a bridesmaid in less than a month I thought my arms could certainly do with toning!
Blood sugars: Lots of hypos (lows) still. I am really unaware of them as well, the other day it dropped to 1.2mmols and I didn't know, it was just because I was checking that I realised! Luckily I have never passed out / had a seizure (touch wood) but it is a bit worrying, especially as I am on my own during the day and there's no way Tilly (cat) would know how to perform mouth to mouth. I have had a couple of highs but I think they were down to adrenalin as one was when I was really anxious and the other was after a long crying session (oh hormones, such fun!). I check my sugars every 1.5hrs and I also check a couple of times through the night.
Medication: Other than my insulin I am taking 75mg Aspirin a day (which is prescribed to help reduce chances of pre-eclamsia), I am also taking a calcium / vit D tablet (also prescribed) and a pregnancy vitamin tablet once a day.
Beauty / Other: There are three things I couldn't have got through my pregnancy without. Firstly, urine test sticks. These check your urine for anything from ketones, protein and glucose to your PH and whether there's blood. Each test has various levels so you know how good / bad / average the result is.  They were especially handy during the first trimester when I was so sick and had really high ketone levels (not due to high sugar but due to starvation!).
The second thing I swear by is lavender oil. I put it on my pillow every night (2-3 drops), in my baths (3-4 drops) and I carry a bag of dried lavender around with me at all times. It's incredibly relaxing and amazing if you are a little bit anxious. Taking 3-4 deep breaths of the dried lavender really calms me down and helps me to refocus. This might all sound a bit wacky but I promise it has made a huge difference for me!
The final thing of note is Organic Babies Mum & Baby Rescue Balm by Green People. It's meant for dry skin, nipples and perineum. A little goes such a long way and it's absolutely incredible. My nipples did go through a patch of being really dry, but this stuff has completely sorted them out and they are back to being baby soft ! I also put it on my eye lids and used it on my mouth when I had Hyperemesis Gravidarum as my mouth was cracked and dry. It's a wonder balm and worth every penny.
Baby buys: I have bought a few clothes bits but nothing really notable yet. Everything is so mini and so adorable! I would really like to try to make some leggings for the baby myself as I have a sewing machine and a pattern, I just need to get on and do it! We are aiming on getting the travel system (car seat / buggy) once we're back from Majorca, as well as the cot. I would like to get a co-sleeper for the first few months, it's important to me to be as close to the baby as I can be and I've done so much research and they seem to be the best thing, especially for first time parents prone to worrying!
Concerns: The temperature – it's already getting warm in England and our bedroom is getting so hot! I think the baby and I might have to sleep in the bedroom downstairs come August as I need to make sure it's cool at all times as babies can't regulate their own body temperatures like we can. Any suggestions will be hugely welcome!
Insulin resistance- apparently this should start happening quite soon, but will have to just deal with it when it does.
---
That's it for now, but if there's anything you want to know that I haven't added in then do let me know and I'll add it in next time.
Emma and the bump x