I adore all of my recipes, but this is one that I am particularly proud of, because it means that I can eat BREAD. I can make it up and pop it in the oven almost immediately, bake for 15-20 minutes and that's it! It makes things much easier than anything more complicated, especially with an active toddler running around. As with all my recipes I try to make things as simple as possible with easily accessible ingredients. The problem with many "healthy" option recipes these days is that they are full of hard to find, expensive ingredients. Most of which you would use once and then pop in the cupboard never to be used again. This is made with only 5 key ingredients and can be adapted according to your tastes and preferences.
I make a large loaf at least once a week (see notes in the recipe section for a large loaf). I will always have slices in the freezer too. It is perfect for breakfast with some sliced avocado and sea salt, or eggs (scrambled, fried or poached are my favourite!). It's great toasted and on the go with a lashing of peanut butter. I tend to have eggs most mornings, so a slice of bread is a wonderful addition, especially as I find my mornings most active with Florence, so I tend to have a bigger breakfast and then a small salad or snack for lunch. The best thing about it is that it works with my blood sugars. I don't have to give myself any insulin for a plain slice or two with butter (or nut butter), and yet it gives the same satisfaction that bread gives (for me anyway). Of course, it doesn't have that same stodginess or springiness as a normal shop bought loaf, but it is dense, satisfying and nutritious.
It has made quick lunches much easier, as it makes a great sandwich or accompaniment to soup. I get that "giving up carbs" especially if bread has been one of your staple go to's for years and years, seems like an unachievable challenge. BUT, this bread really does fill the void, for me anyway. It has a similar consistency to rye bread and is fabulous toasted with a generous spread of butter.
You can add spices to it or I have also tried a loaf with blueberries, vanilla and cinnamon. It is one of Florence's (22months old) favourite things to have mid afternoon when she's woken from her nap, with a cup of warm whole milk.  I'm going to make a tomato and walnut loaf next time as I think that would be a wonderful combination. The main body of the bread is made with ground linseed.  Linseed (also known as flaxseed) is a very cheap seed. I buy mine from a shop in Cheltenham called The Grape Tree (they also have a website here), I buy 500g for £0.99p. You can buy linseed already ground to make life a lot easier or if you have a coffee grinder or nut grinder, then you can make the linseed flour yourself by blending on high power. If you don't have olive oil, then so long as you have a similar substitute then feel free to swap it out. Use what you prefer /  can afford.
Linseed (also called flaxseeds)  are a great source of dietary fibre; minerals like manganese, thiamine and magnesium; and plant-based protein. Linseed is one of the richest sources of plant-based omega 3 fatty acids and is low in carbohydrates but extremely high in both soluble and insoluble fibre.
Nutritional information for 1 medium loaf (based on 18 slices)
Per slice
carbs: 0.3g carbs per slice.
The Loaf tin I used to bake this bread is 19cm (long) x 9cm (wide) x 7 cm (deep)
I have found some similar options on Amazon:
Non-stick silicone bread tin with carbon steel rim, 1lb loaf tin size, (9.5 x 20cm, 5cm deep). Silicone bread mould. Banana bread, brown bread size. 1lb bread mould.
This one looks amazing and I have just bought it myself  – I am a big fan of baking with silicone as it's much easier and generally doesn't require much greasing / if any.
Traditional 1LB Non-Stick Loaf Tin (19cm X 10cm X 5cm)
A more affordable loaf tin.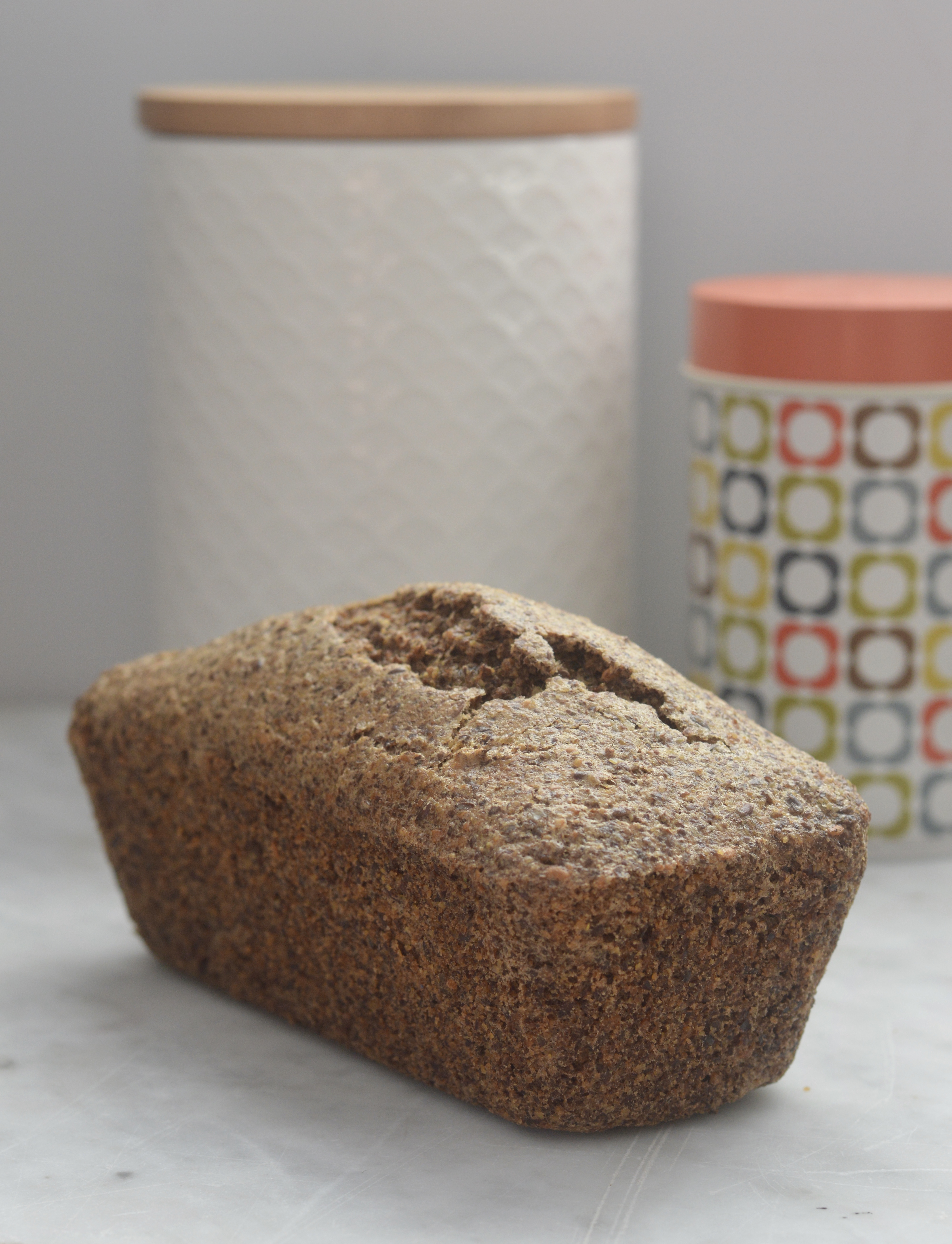 Low Carb Bread
A delicious, simple and quick to make low carb bread recipe, made with 5 key ingredients. It's low carb, grain free, dairy free and gluten free. Easy to freeze, toast and enjoy as a sandwich.
Author:
The Low Carb Kitchen
Ingredients
150g milled linseed (I use brown linseed, also known as flaxseed)
3 large eggs
1 tbsp olive oil (or oil of your choice)
2 tbsp water
1 tsp baking powder
sea salt and pepper - optional addition
To make a large loaf double the recipe for linseed, olive oil, water and baking powder and use 5 eggs. You will need to increase the cooking time to 25 minutes.
Instructions
Preheat your oven to 180C
Place the milled linseed in to a deep mixing bowl with the baking powder, combine the two (If you do not have milled linseed then please see notes on how to do so)
Make a well in to the middle of the mixture
In a separate bowl whisk eggs, oil and water, until well combined and smooth. Add optional salt and pepper
Pour the egg mix in to the well of the linseed flour and using a wooden spoon combine the wet and dry ingredients together to form a thick batter.
Spoon the batter in to a greased loaf tin (use greaseproof paper if necessary) and pop in the oven for 15-20 minutes until you have a solid crust and the bread has risen. If you don't have a fan assisted oven then this may take a little longer
Carefully remove the bread and allow to cool on a wire wrack. (If you find the bread is stuck to the inside of the tin - then just wait for it to fully cool before removing).
Allow the bread to cool completely before storing in a tin or wrapping in cling film. Will keep on the side for up to 4 days or in the fridge (in a sealed container) for up to 8 days. Slice up and freeze for up to 3 months.
Notes
If you want a larger loaf (like the one pictured) then double the recipe ingredients other than the eggs- you will require 5. Bake for 25-30 minutes, until a knife comes out of the centre of the loaf clean.
The best way to mill linseed it is either in a coffee grinder (I bought one from The Range a couple of yrs ago for £10 and it has seen me through many many loaves of bread and many ground nut flours). Otherwise, something similar to a nutribullet which has a milling function, or a high speed blender should do the trick.
You just need it to be like a coarse flour. You can buy milled linseed ( The Grape Tree sells a milled variety, although it is a little more expensive than just buying the whole seed variety and then just doing it yourself. But if it saves time and you have the money, then cut out the milling man and just buy the milled variety! ).
The Loaf tin I used to bake this bread is 19cm (long) x 9cm (wide) x 7 cm (deep)
I have found some similar options on Amazon:
Silicone loaf tin
This one looks amazing and I have just bought it myself - I am a big fan of baking with silicone as it's much easier and generally doesn't require much greasing / if any.
Traditional loaf tin
A more affordable loaf tin.