The most simple and delicious low-carb bread rolls you will find! Please read on…
"Your home smells like I've just walked in to a bakery" were the words of the plumber this morning as he walked through the hallway and he was right, it did. I could have kissed him. It felt like a huge compliment and even though my washing machine was washing the floor, more than the clothes, I didn't care. I just desperately wanted him to try a roll to give me his verdict. I didn't tell him what was in it, as I didn't want the sudden fear that surrounds those that know no different to a grain filled diet. He gobbled it down and said "that's a great bread roll, love the crust. Would it be rude to ask for another to take in my van?". I even cut it in half and added some mature cheddar and butter. He was pleased, I was thrilled. Oh, and yes, the washing machine did get fixed. Unfortunately he would not be paid in bread rolls though.
I have been trialling this low-carb bread rolls recipe for a few months and I think I have it as close to my version of perfection as I can. Of course, nothing can ever be perfect and my version of perfection will be vastly different to yours, but so long as it tastes good and keeps your blood sugars as stable as possible then my job is done! Easy to pop in a packed lunch box and eat on the go.
Who knows, this low-carb bread rolls recipe may just change your life. Ok, that might sound way over the top. But, if you are a bread addict, coeliac or a diabetic and struggle with erratic blood sugars, then this recipe might just be the answer. Or if you simply just follow a low-carb or keto diet and would like the chance to enjoy a simple bread roll then this is for you. They are delicious served cool or lightly warmed in the oven. Best stored in a tin and eaten within 5 days. If you would like to keep them for longer then keep them in a sealed container in the fridge and consume within 10 days- just be mindful that they are likely to dry out quicker.
One thing I am most excited about these low-carb bread rolls is that they are suitable for so many people with varying dietary requirements as they are grain-free, egg free, gluten-free and dairy-free. Also suitable for those who are vegan.
Of course, if you would like to play around with the ingredients and quantities yourself then please do so, and if you have any suggestions then do comment below. Also, please always read the notes in the recipes as I add any handy tips or tricks.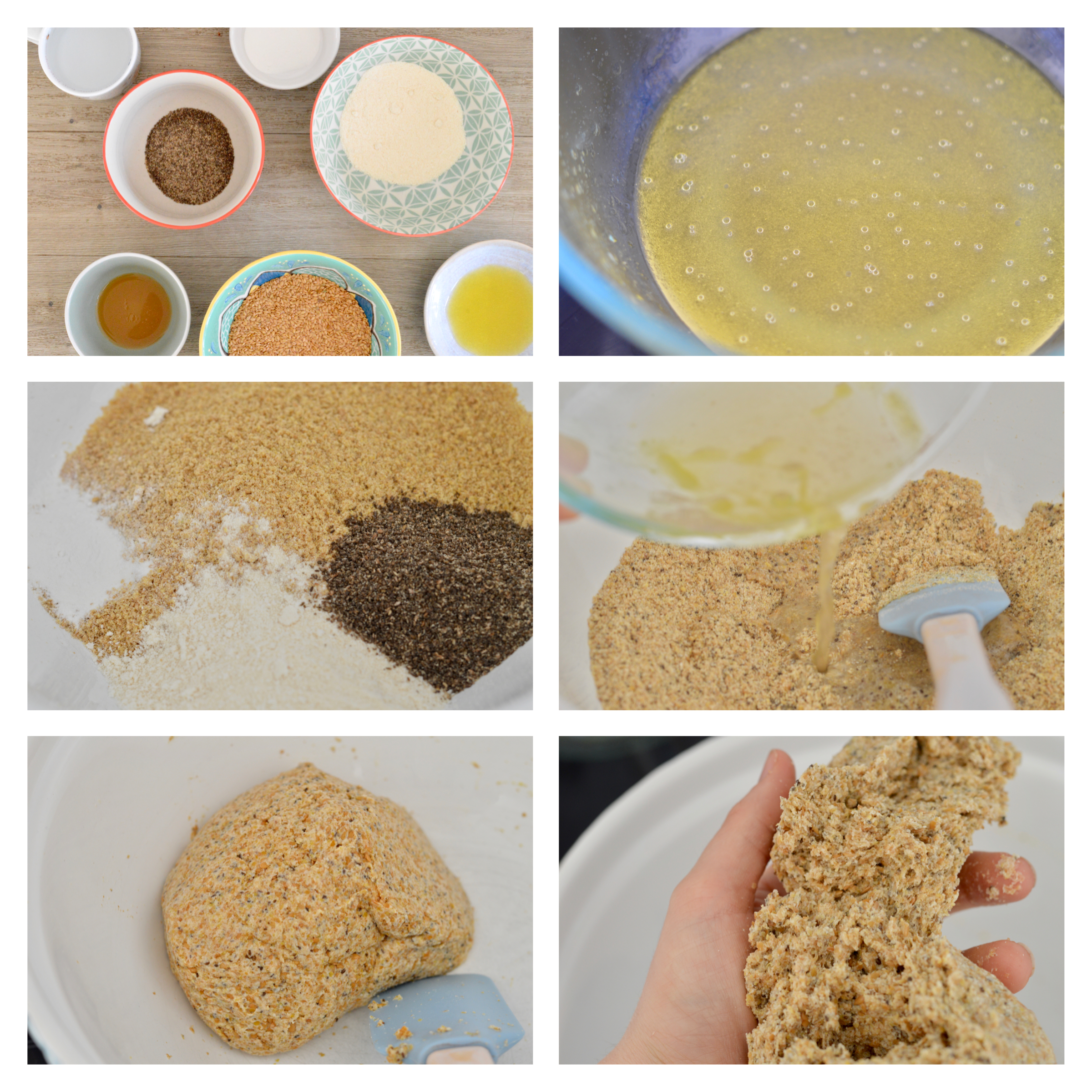 There are loads online. Just type in low carb bread roll or keto bread roll and there are pages and pages. Lots contain a huge amount of ingredients, lots contain eggs, many contain psyllium husk – which is something that I don't tolerate well so avoid. I have tried to make the recipe as simple as possible, but there might be a few ingredients you wouldn't usually find in your store cupboard. I bought all the ingredients mentioned from my local Aldi. Let me talk you through them.
Olive oil: you can use any but I generally stick with "light" olive oil for baking. Head over to my olive oil guide to learn more.
Golden linseed (also known as flaxseed): Key ingredient. It will need to be milled (ground). You can either do this in a blender like a nutribullet / food processor / coffee grinder, or buy it already milled. Aldi, Lidl, Tesco, Holland and Barrett etc all sell ready milled packs. I really recommend the Aldi ones as I use these regularly. You can use golden or brown or what ever colour linseed / flax you have to hand.
Coconut flour: this gives the bread the slight denseness that you get in bread rolls. Don't worry, you cannot (I repeat), CANNOT taste the coconut. Promise. This recipe has been trialled on 10 people and none of the 10 could name 1 ingredient, let alone coconut flour! No one believes that they don't contain strong flour and yeast.
Chia seed: Again, I use milled, and recommend you do too (follow same process as mentioned above in the linseed section of how to mill it yourself). If you don't have chia then just replace it gram for gram with extra golden linseed OR you could use psylium husk (but you will only want to use a max of 10g as it sucks up so much liquid – you don't want it to dry anything out) if you have that sitting in your cupboard.
Apple cider vinegar: believe it or not, this gives the bread its taste and is what (combined with the other ingredients) makes your home smell like a bakery. ACV also has many health benefits. It is great for salad dressings (added with some greek yoghurt, chopped chives and pinch of paprika) and can even be used as a homemade cleaning product (see 37 ACV hacks here). I bought a big bottle in Aldi a few weeks ago and it was £1.99, and 1/3 of the price that it is sold at else where. Sold in all supermarkets.
Baking powder: helps puff them up a little!
Water: speaks for itself.
The consistency of the roll itself is a beautiful crust and a soft inside. The inside isn't perhaps as "dry" as bread, but a wonderful texture non the less.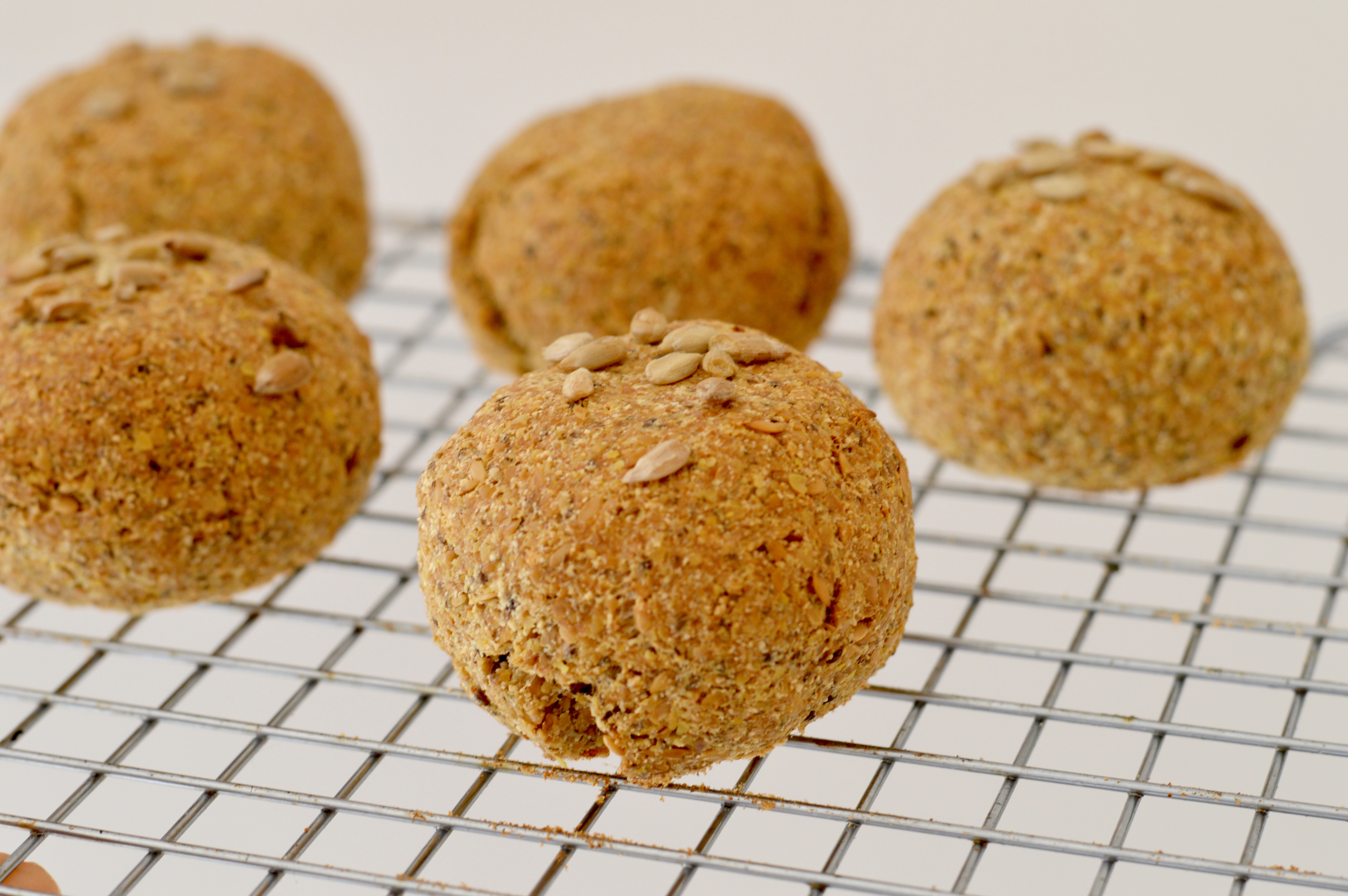 How many carbs are in each roll?
Drumroll please……..2g carbs PER roll. Can you believe it?? I make 6 rolls out of the recipe.
Each roll weighs approximately 70g in weight.
What do you serve them with?
I love to serve them alongside some green eggs in the morning or have toasted with nut butter, or with some good quality olive oil and balsamic (just be mindful of the carbs!). They make the perfect picnic lunch, with large chunks of cheese and tomato. My daughter loves them with homemade blueberry jam, they can make a great post nursery / school / mid afternoon snack with some butter (I love a sprinkle of sea salt too).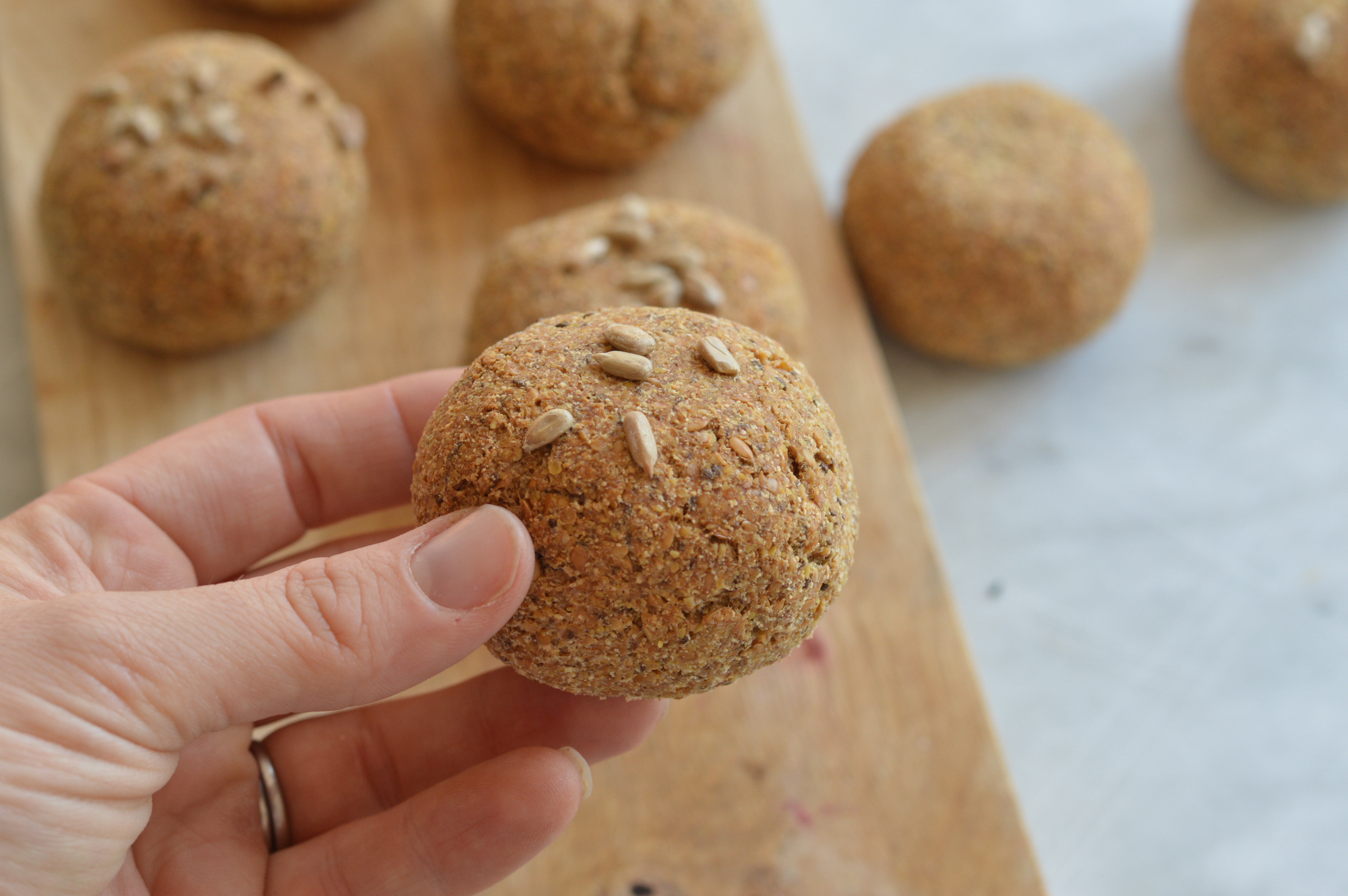 Low-carb bread rolls
A simple and delicious low carb bread roll. It has all the qualities of a bread roll, delicious crust and springy centre.
Author:
The Low Carb Kitchen
Cuisine:
low carb, vegan, dairy free, gluten free, grain free
Ingredients
1tbsp apple cider vinegar (I will refer to as ACV)
2tbsp olive oil
1 cup water (**measuring cup)
150g golden linseed (also known as flaxseed), milled
30g coconut flour
20g chia, milled (if you do not have chia then replace with either linseed or 10g psyllium husk- just be mindful that this can dry out the mixture so you need to really be cautious)
2 tsp baking powder
**I do not add seasoning as I do not feel the recipe needs it. However, this is your call. If you want to add sea salt / pepper then please do so to your taste.
Instructions
Preheat your oven to 180C / 350F.
Make sure that your linseed and chia seed are milled. To do this, pop them in a "nutribullet", coffee grinder or food processor and pulse until a flour like consistency.
Combine all dry ingredients (linseed, coconut flour, chia and baking powder) in a bowl and mix together.
In a separate bowl add the ACV, olive oil and water (ensure you are using a measuring cup!). Whisk together well.
Make a well in the dry ingredients and pour in the liquid. Using a spatula combine the mixture together well. It will go from wet, to a thick batter. Continue to move it around until a dough forms. Mould it in to a bowl and leave to stand for about 15-20 minutes. It will thicken considerably during this time.
Break the dough in to 6 and mould in to balls. (If you make less then please note baking time may need to be a little longer)
Place on a grease proof baking sheet and very gently press each ball, so that it is stable.
Optional: Add any seeds on top (best way to do this is to dot a little water to the top of the roll and then sprinkle the seeds over it.
Place in the oven and bake at 180C / 350F for 35-40 minutes. Check occasionally. They should have a deep golden brown crust, with a slight spring once cooked.
Notes
Using a measuring cup, not just a standard mug.
I bought all my ingredients for this recipe from Aldi.
You can double the recipe to make more.
If you make them bigger then I would add on 5 minutes and just check one to make sure it is cooked through.
Best stored in a tin and eaten within 5 days. If you would like to keep them for longer then keep them in a sealed container in the fridge and consume within 10 days- just be mindful that they are likely to dry out quicker.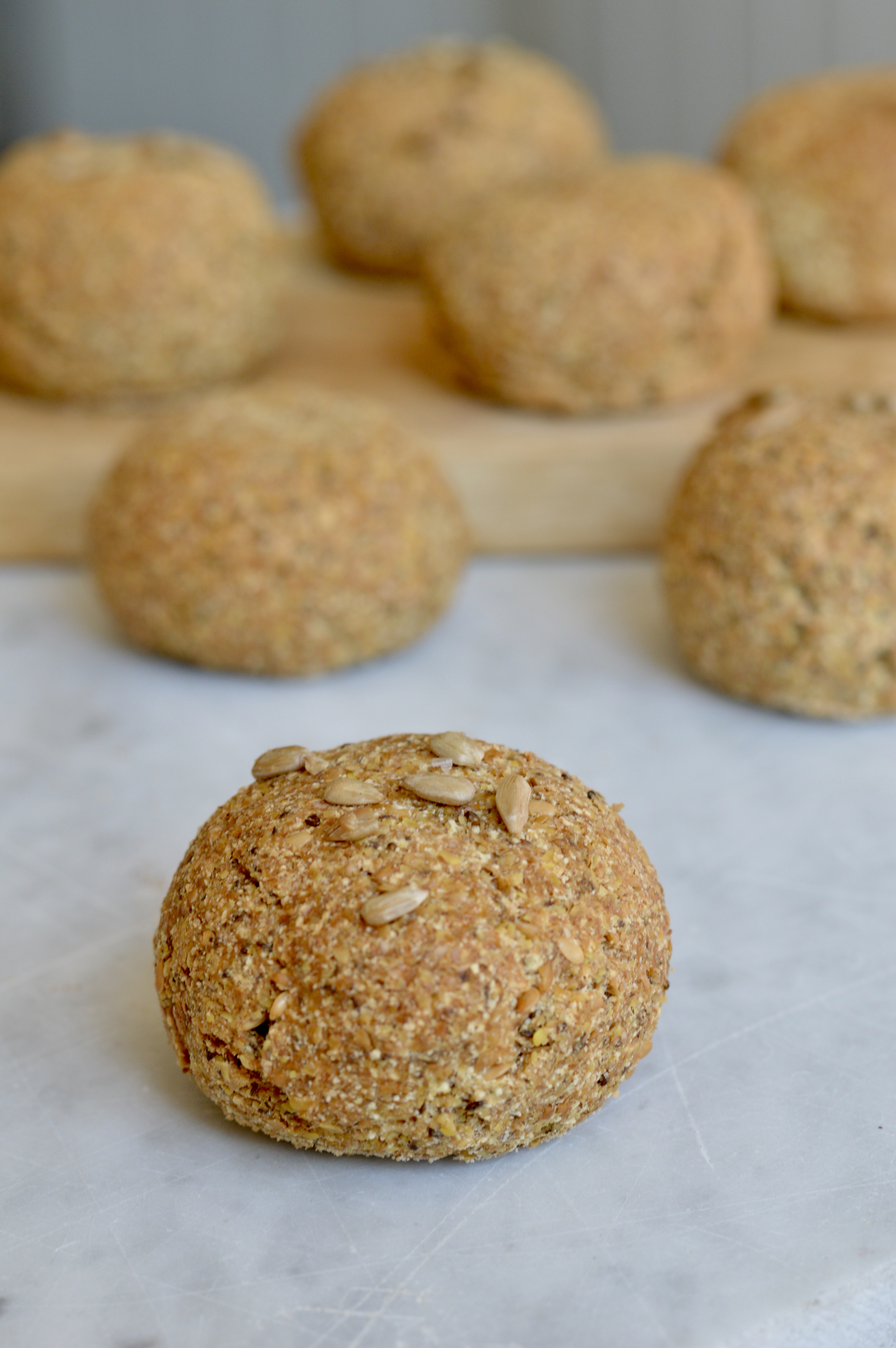 For 100 low-carb recipes, meal plans and lots of info as to the benefit of a low-carb lifestyle (especially for those with diabetes), then you can order a copy of our book here.
If you make this bread roll recipe, snap a pic and tag me in it — I love to see your creations on Instagram, Facebook, & Twitter!
Lastly, Aldi have not paid me for any of this (I wish!), I just do most of my shopping there and have a big soft spot for them as they sell so many health focused / real food ingredients at a more affordable price.
ALL PICTURES ARE MY OWN AND ARE NOT TO BE COPIED AND REPLICATED WITHOUT MY SOLE PERMISSION.