A simple and delicious low carb recipe for blackberry crumble with homemade custard.
One of my favourite moments recently has been wondering through the lanes in the open countryside near our home picking blackberries with Florence. Since the sickness and nausea lifted at 16 weeks pregnant, we have been walking and cycling lots more. Enjoying being out and about before the winter months set in, days become shorter and I become, more pregnant.
Foraging fruit to take home to make a crumble with my little girl is such fun. We have picked so much that our small freezer space is full to bursting. Perfect for the months ahead, for making in to jams, adding to smoothies and fruit bars for Florence. Foraging is so simple, fun and innocent. No tv screens, no cars, no social media, no stress.
Blackberries are in season from the late summer through to late Autumn. If you buy them in the supermarket they are quite expensive, so if you need to do this then I suggest you buy from the frozen aisle as you will get more for your money. Culinary riches surround us everywhere and the great thing about blackberries is that you will find bushes in hedgerows around the town, country and city; in parks and along canal side paths, wooded areas, country lanes and paths, you won't have to go off the beaten track to spot them and will find them in the most unusual of places.
I forage what we can, when we can. In the late summer (2018) we had to spend a week in London for work. I took Florence on a long walk in her buggy, not realising I'd forgotten to pack any snacks (big mistake). We were out a lot longer than I thought, so half way home, the moaning started. Followed by the back arching trying to escape the restraints of her buggy. I realised quite quickly that we were passing bushes of blackberries. So I picked a few, washed them with a bottle of water and gave them to Florence who happily munched them all the way home. Free, simple, low carb and other than permanently staining her cardigan and having purple stained fingers for a few days, saved me a battle!
If you can't forage them yourself then try a farmers' market or a pick your own farm. Make it a family day out, educate the kids on where their food comes from and see the joy on their faces as they pick the fruit for themselves. Take it home and make it in to something delicious. Look for plump, dry, darkly coloured fruit that are neither too firm nor too squishy. Trust your sense of smell to help you gauge quality and ripeness.
The great thing about blackberries is how low carb they are. Which makes them so perfect for a crumble. At only 5g carbs per 100g, they are the second lowest carb fruit. You can use them in salads, make them in to jam (pop in a pan with some water, reduce the fruit to a thick sauce. Add 2 tablespoon chia per 100g blackberries and a pinch of sweetener), overnight chia pudding and "blackberry leathers". Something I have made since my daughter was 12 months old. With no sugar, just the natural fruit, these are perfect for young'uns to hold and eat.
Blackberries freeze really well. As soon as they are picked and you are home, wash, dry and freeze them until required. Perfect stored in freezer bags ready for you to take out during the winter months for a comforting crumble or pie. I tend to store them in 100g bags.
So, back to the reason you clicked on to this post. The crumble! This crumble ticks every box. It has a delicious sweet and fruity centre with a divine crumble top, made with the simplest of ingredients. The custard is a total winner and less than 1g carbs per serving. It's hard not to eat the whole lot at once. I never was a fan of custard until I developed this recipe. It has been a secret I have kept for a while, but here it is.
There are approximately 6g carbs per serving (based on it serving 4 people).
Tips for foraging blackberries:
If you are more prepared than me, then take gloves when picking blackberries as the brambles are very sharp. You could take an umbrella to reach the high ones that are just out of reach or use a tall friend / husband etc.
When ripe and ready to pick, blackberries are black and glossy and pull away from the plant easily. Choose the plump, clean ones.
Make it a fun activity with the kids. The first one to find the blackberry bush is the winner etc.
Take some wipes, a large Tupperware or two and a bottle of water to wash them with (as of course, your children will definitely want to sample them).
Avoid picking blackberries too close to the ground where people walk dogs. Also avoid picking right next to a busy roads, but try for ones in parks / on quiet countryside lanes / along railways etc.
Try not to pick all there is, always leave plenty for others to enjoy, including wildlife.
Blackberries will only keep for about 3 days in the fridge but freeze well. Wash, set aside to dry and then freeze.
For 100 low-carb recipes, meal plans and lots of info as to the benefit of a low-carb lifestyle (especially for those with diabetes), then you can order a copy of our book here.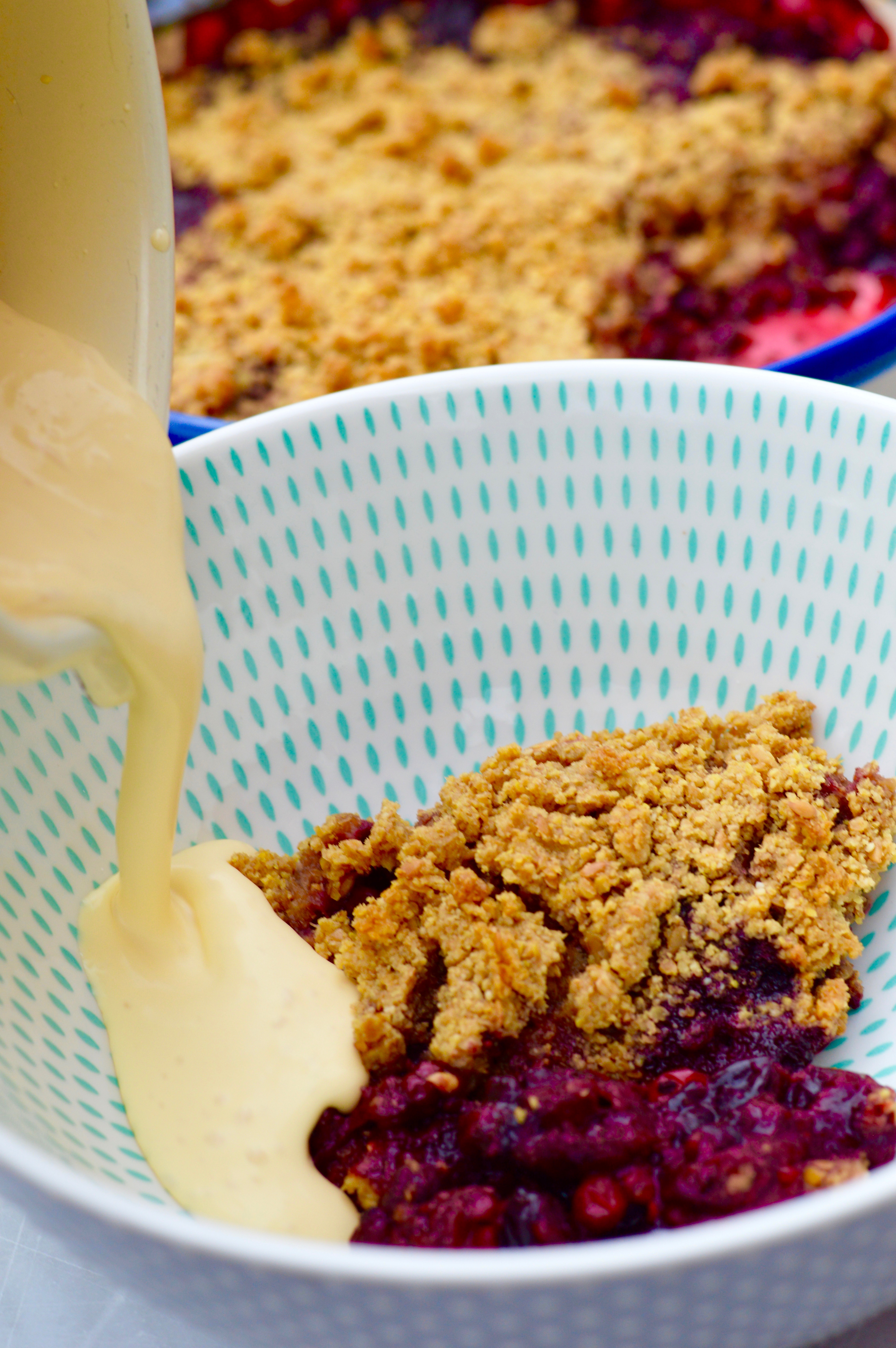 Low-carb blackberry crumble with homemade custard
Author:
The Low Carb Kitchen
Recipe type:
Dessert, pudding
Ingredients
Filling:
400g Blackberries (if you do not have access to blackberries then substitute for blueberries or raspberries, just be mindful to calculate any added carbs)
1.5tsp sweetener (or use brown sugar or none at all, just be mindful of additional carbs)
Topping:
100g Ground almonds
100g Ground Linseed (I suggest brown but could use either)
2 tbsp Almond butter
50g Butter
1 tsp sweetener (optional)
1 tsp cinnamon (optional)
Custard:
150ml double cream
50ml full fat milk
2 egg yolks (use the best eggs you can, the more orange the yolk the better the custard)
1 tsp vanilla
1-1.5 tsp sweetener
Instructions
For the crumble:
Preheat the oven to 180C
If blackberries have been frozen, allow to defrost and then get rid of excess liquid (pop in a bottle and use for cordial). Stir in 1.5 tsp sweetener and pop in the bottom of a dish for baking
If blackberries have not been frozen, place in the dish with 50ml boiling water and the sweetener, mix together well
Make the topping. Place all ingredients in a bowl and using your index finger and thumb rub the ingredients together to form bread crumbs
Place on top of the blackberry mix, carefully. Covering it all.
Bake at 180C for 20-25 minutes until a golden top and bubbling berries.
For the custard:
Whisk up the double cream until thick.
Pop in a pan over medium heat. Add in the whisked egg yolks, milk, vanilla and little by little, the sweetener. Have a taste until you are happy with how sweet it is. Everyone is different so please do not add it all at once, as you might find it too sweet. If it isn't sweet enough then please carefully add some more.
Warm slowly and continue to mix until desired temperature and thickness.
Serve immediately or enjoy cold with the crumble cold or hot.
Both will keep for up to 4 days covered in the fridge.
Notes
6g carbs per serving
If you make this, I would love to see your creations on Instagram, Facebook, & Twitter!
ALL PICTURES ARE MY OWN AND ARE NOT TO BE COPIED AND REPLICATED WITHOUT MY SOLE PERMISSION.