This low carb, gluten free blueberry and vanilla mug cake is currently a firm family favourite.
I regularly see delicious looking mug cakes on social media and think how wonderful, simple and quick they look to make. But then when inspecting the ingredients I quickly realise that my blood sugars just don't do well with grains + sugars. Anything high in carbs, for me anyway, is best avoided / enjoyed in a much smaller amount. But give me the challenge of taking a high carb recipe and making it lower carb and it's game on! With a few ingredient changes I have created a delicious, nutritious breakfast or pudding bursting with the sweetness of the blueberries and the delicate flavour of vanilla.
The secret ingredient in this recipe is cottage cheese. It helps makes this a high protein dish and one I am more than happy for my children to have before they head off to school of a morning. I have trialed this in my oven and also my air fryer. Using the air-fryer takes half the time. So long as you are using a heat proof dish / ramekin / cup etc then you should end up with a beautifully domed, sponge.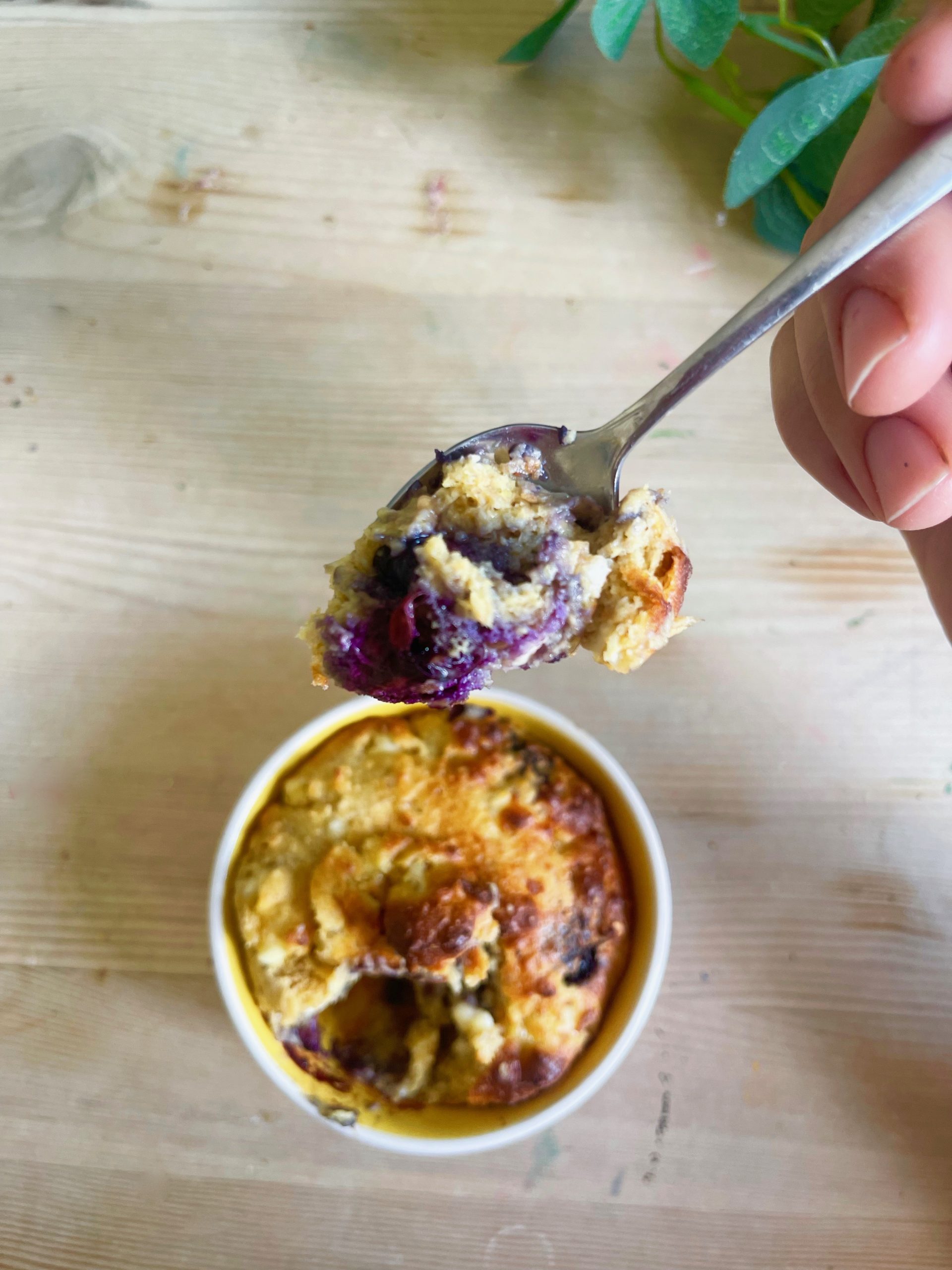 If you are serving it for breakfast, a little greek yoghurt or kefir would be a brilliant addition. Separately, if you are serving this for a dessert then a homemade custard or drizzle of fresh cream would be an added delight. The recipe makes 4 portions and that is how I have worked out the nutritional information. If you decide to make more / less then please do amend numbers accordingly, especially if you are diabetic and counting carbs for your insulin dosing.
If you would like to leave out the blueberries you can do so, you could add in anything like lemon zest plus 1 tbsp juice or orange zest plus 1tbsp juice to make them flavoured. Or you could stud them with dark chocolate chips. However you choose to enjoy them, be adventurous and let me know!
I make the batter by hand as it only takes a couple of minutes in a mixing bowl, if you use a blender then please do so (and see notes below). The only thing to be mindful of is that different seed mixes and some coconut flours can be more  dense than others. So you want to ensure you have a thick but (a little thicker than) cake batter when you put it into the ramekins. You do not want to be scooping in cement.  In addition, please don't leave your batter on the side for too long. Make it, pop in ramekins and bake. There are plenty of notes below but if there is something missing send me a message and I'll answer!
Low carb, gluten free blueberry and vanilla mug cake
A delicious low carb baked blueberry and vanilla mug cake using simple to source ingredients. You an make this recipe in your oven or air fryer.
Author:
The Low Carb Kitchen
Recipe type:
baking, mug cake, low carb, Keto
Ingredients
115g cottage cheese
120g ground golden linseed (or other milled seed of choice)
30g coconut flour
2tsp baking powder
90ml milk
3 large eggs
50g blueberries
1-2 tsp vanilla essence / vanilla bean
2tbsp powdered sweetener (optional), you can alternatively use sugar
Instructions
Preheat your oven to 180C. If you are cooking in the air fryer preheat it to 180C on "airfry" setting.
Into a mixing bowl add the cottage cheese, milk, vanilla and eggs. Whisk together.
Now add in the dry ingredients (ground golden linseed, coconut flour, baking powder). Mix together to form a batter.
Add the sweetener and stir through. Add in the blueberries and mix until fully combined.
Using a little coconut oil or butter grease the ramekins / mugs.
Carefully spoon the batter into the ramekins and split evenly. I make 4 servings but you can make just 2 if you would prefer. You will need to adjust the baking time accordingly if you do.
(if in the oven) Place the ramekins on a baking tray and pop in the centre of the oven for approximately 25 minutes until domed and cooked.
(if in the air fryer) Place in the air fryer for 8-10 minutes until domed and cooked through. Of course you could use the bake setting as well, it might just take a little longer.
Once cooked carefully remove from the oven and serve once ready. Allow to cool to a warm temperature if serving to children.
Nutrition Information
Calories:
250
Carbohydrates:
4
Questions: 
I dont want to use ground golden linseed?
Absolutely fine. Try a milled seed pack – most supermarkets sell them. The ones from Lidl and Aldi are low in price and a nice mix of seeds. Alternatively try ground almonds.
As a side note, if you do buy golden linseed and you have a nutribullet / food processor with a milling blade you can whizz up the linseed to a flour consistency. Whole seed is cheaper than milled.
I don't want to use coconut flour?
Replace the coconut flour with ground almonds.
Any alternative to cottage cheese?
I try to make my recipes as simple as possible so when key ingredients are being taken out, the recipe isn't the titled recipe anymore and a new one. If you don't want to use cottage cheese then I can suggest trying Greek yoghurt but I have not tried it myself yet, so am unable to confirm the outcome.
Can I use fat free cottage cheese? 
Yes. I have tried both with fat and without and both work.
What sweetener do you use?
I use powdered erythritol. It's something I have used for a long time and find it works well in bakes. A little goes a long way. If you would like to use an alternative sweetener then please do so. Just remember that less is more when it comes to sweeteners.
Can I sweeten with sugar?
Of course. Sweetener or sugar are optional. The carb count is based on using the ingredients stated. Any amendments you make, you will need to adjust nutritional info accordingly.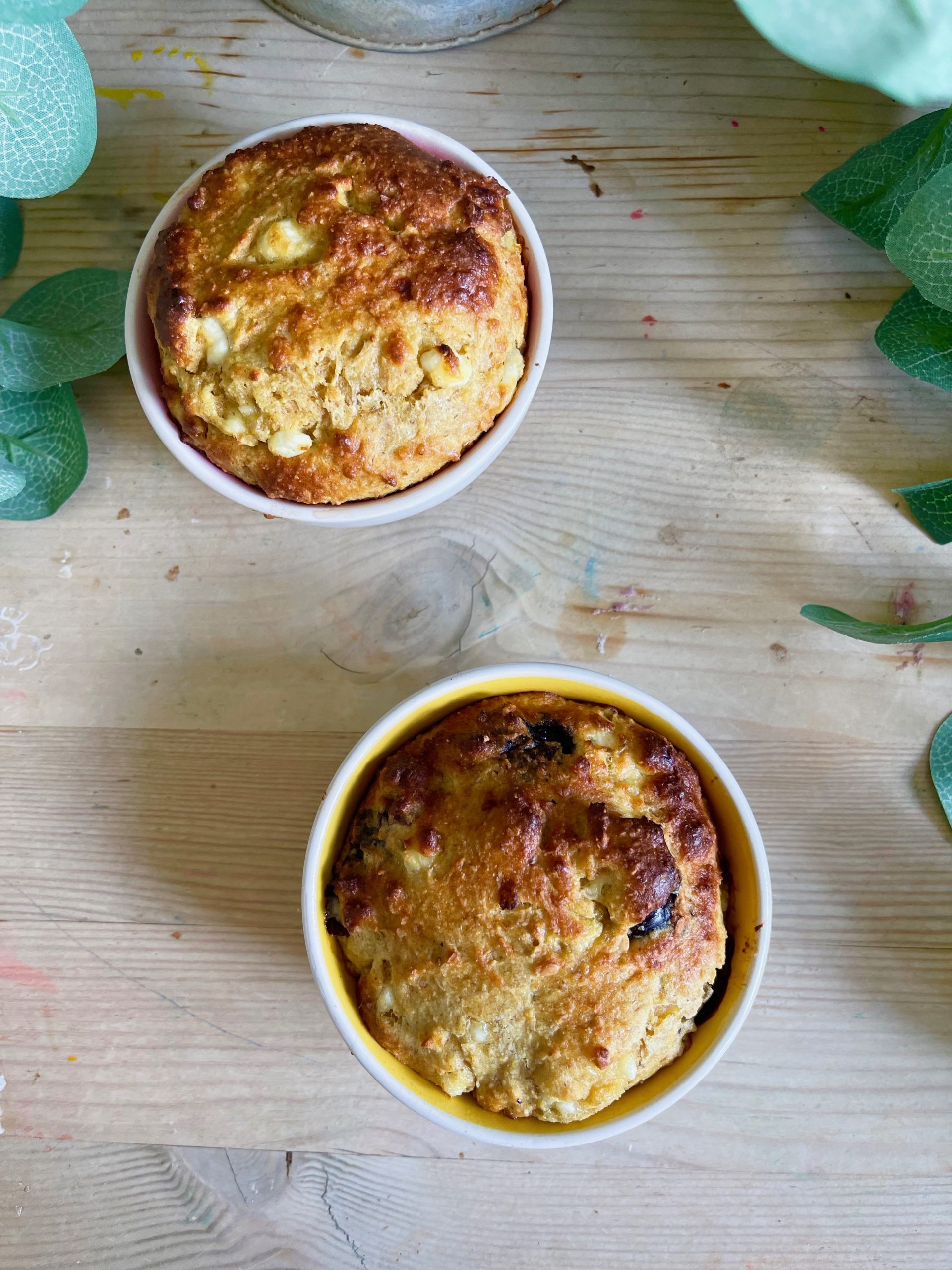 Can I blend the ingredients? 
Yes of course. Just miss out the blueberries and stir them through before popping into your ramekins. If you would like a smoother texture (no cottage cheese flecks) then go ahead, pop it all in a blender and blend. I like the rustic look and also my children seem set on the idea that it's white chocolate….so I'm happy to run with that!
Can I freeze them?
Once baked you could freeze and then allow to thaw and reheat to piping hot before serving.
What do you grease your ramekins with ?  
Coconut oil. I pop a little on a piece of clean kitchen towel and wipe it round the inside of a ramekin. You could use butter, ghee, olive oil etc as an alternative.
Can I make this in the microwave?
Good question. It isn't something I have tried as I do not own a microwave! Please do let me know if you do though and how you get on.
Find me:
Email [email protected]
My shop – for coaching, classes, porridge, bread and ebooks.