With Easter fast approaching I thought it was time to share one of my favourite baked chocolate cheesecake recipes. This really is a showstopper. It has a beautiful consistency, rich and chocolatey, sweet but not too much and probably the most simple ingredients for any base you will find.
Low in carbs, grain free and gluten free. Make it the evening before it is needed as you need plenty of time for it to chill in the fridge.
I recently made it with my Zoom cooking class (you can join them here). After the class finished I hosted some friends for an afternoon of home cooked cooking class makes / bakes and Prosecco in the sunshine whilst the children played. There is always an element of anticipation when I make dishes for people to try. I know that I love it, and that (usually) my children and husband have okayed it too, but there is always that little demon on my shoulder. Plus, let's be honest when desserts are concerned, not everyone likes dark chocolate!
However, the response was absolute music to my ears. They adored it.
There is a simple method to follow, but this really is pretty foolproof. You can choose what % chocolate you use, but I suggest sticking to 72% or higher.
I have lived with T1 diabetes now for 17years… all my adult life. In fact, I have had it for exactly half my life last month. Diagnosed at 17 years old on a rainy Friday night in March 2005, I could never have imagined the journey it would have taken and accompanied me on. 17 years down the line and I feel so well. I believe eating a lower carb diet has wholeheartedly played an intrinsic role in that (alongside the obvious- insulin). I have two beautiful little girls and get to create delicious recipes for a living. To share with you all.
Keep scrolling down to read some questions I have answered that might be helpful.
So enough of me. Here you go. Enjoy.
Low carb baked chocolate cheesecake
A delicious, low carb baked chocolate cheesecake. Simple ingredients. The perfect centrepiece.
Author:
The Low Carb Kitchen
Ingredients
Base:
150g ground almonds
50g butter
10g sweetener (I suggest powdered erythritol, I use the brand NKD)
pinch sea salt
Filling:
400ml tin coconut milk
400g cream cheese
2 tbsp Cocoa powder
100g dark chocolate (I would suggest 70% +)
20g sweetener or sugar (if you are using a high % chocolate you might require a little more sweetener.)
20g coconut sugar (you can miss this out but I like to use it and recommend it)
1 tsp vanilla essence (or use ½ tsp vanilla bean)
2 large eggs
Instructions
Preheat oven to 180°C / 350°F
You will start making the base. Place the ground almonds, butter and sweetener in a bowl with a pinch of salt. Massage ingredients to breadcrumbs and continue until sticking together.
Press into the bottom of a spring bottom cake pan and fork 3-4 times. I use an 18cm round cake tin.
Place in the oven for 8-10 minutes until golden at the edges and firm.
While the base is cooking, make the filling.
You can take the base out for a few minutes if needed while you make the filling.
Into a food processor or a mixing bowl, place the cream cheese, coconut milk, sweetener / sugar, vanilla essence and large eggs.
Whisk together well to a custard like consistency.
Melt the chocolate.
Carefully add it in whilst whisking the cream cheese mix.
Add in 2 tbsp cocoa powder.
Mix.
If you are happy to do so, then please taste the mixture. If it requires more powdered sweetener then please add now.
Pour onto of the base and place in the oven for 45 minutes. Turn off the oven and leave it in there for a further 30 minutes. Remove from the oven. It will still have a little wobble to it but don't worry, just place it straight in the fridge until cold.
Decorate and enjoy.
Notes
Based on ingredients suggested (including coconut sugar). If you take out the coconut sugar and just use sweetener then it will work out at around 5.5g per slice.

I use powdered erythritol which I buy in bulk from NKDLiving.
Nutrition Information
Serving size:
12
Calories:
345kcal
Fat:
24g
Carbohydrates:
7.5g
Protein:
7g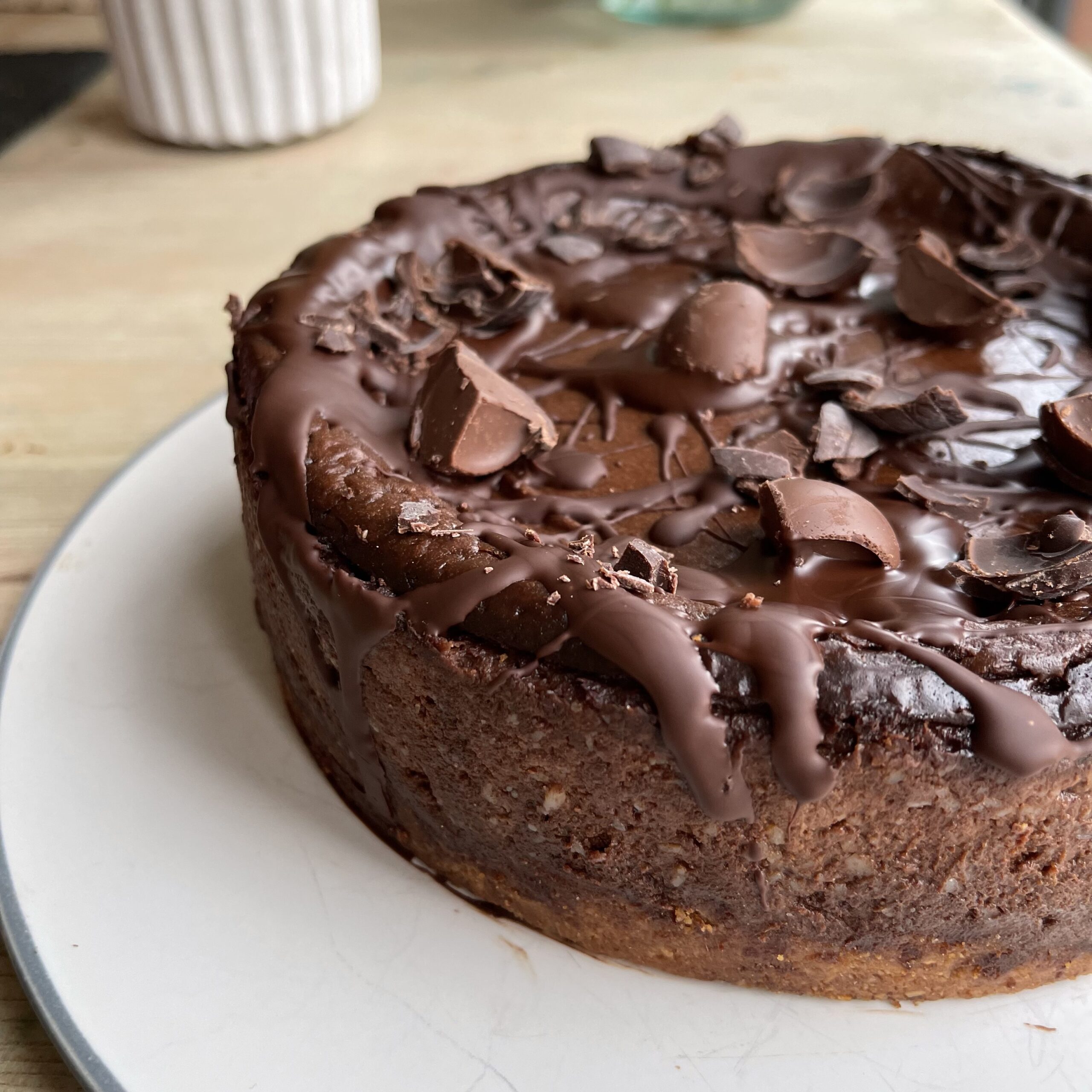 Questions:
What sweetener do you use?
Powdered erythritol – I use the brand NKDLiving. I buy it in a 1kg bag which always lasts me through the year. A little goes a long way and I find this a brilliant product to bake with and use in any raw desserts / energy balls/ ice cream etc. The best bit about it is that it is powdered and doesn't have any after taste.
Can I use low fat or fat free products?
If you would like to reduce the fat by using fat-free products, please do so. Please just be aware of any added carbs. To be honest with plain products such as coconut milk / cream cheese etc, using the lower fat options shouldn't make a huge difference carb wise and might have a positive benefit for you if you need to be following a lower fat diet.
How many hours total prepping / baking / cooling would you suggest as a guideline? 
Around 4.5 – 5 hours. To have a nice chilled decorated cake. 20 mins prep, 45 mins bake, 30 mins oven off, 3 hours to chill completely, 10 mins to decorate. Roughly!
If I change an ingredient will the nutritional information be different?
YES. My nutritional information below is a guideline and worked out on the exact ingredients listed and serving size suggested. Regarding nutritional info- I don't feel like this is information I need to share as I hope a lot of people, esp those with diabetes will work it out for themselves. But I do get asked for it. The reason I don't share it for a lot of my recipes is because sometimes people query it or want personalised nutritional information, which I simply cannot afford the time to do, and other people generally put their own twist on recipes, which makes the information irrelevant. If you have diabetes, there is a significant carb difference between say 60% chocolate and 90%, which will impact blood sugars. So, if you do have diabetes, please always be mindful to check your own ingredients and nutritional information.
How long should I keep it in the fridge for?
Keep in the fridge. Consume within 5 days.
What size cake tin?
To make a nice thick cheesecake, I use an 18cm round tin but you could easily get away with a 20cm / 21cm. This easily serves 12 decent sized portions.
Are ground almonds the same as almond flour? 
Either will work. Ground almonds tend to be less finely milled. I prefer ground almonds in baking, personally.
I don't like ground almonds, what can I use instead?
Any milled seed will do. You can buy bags from Lidl / Aldi etc. You can also get from other supermarkets. Some brands are more expensive than others.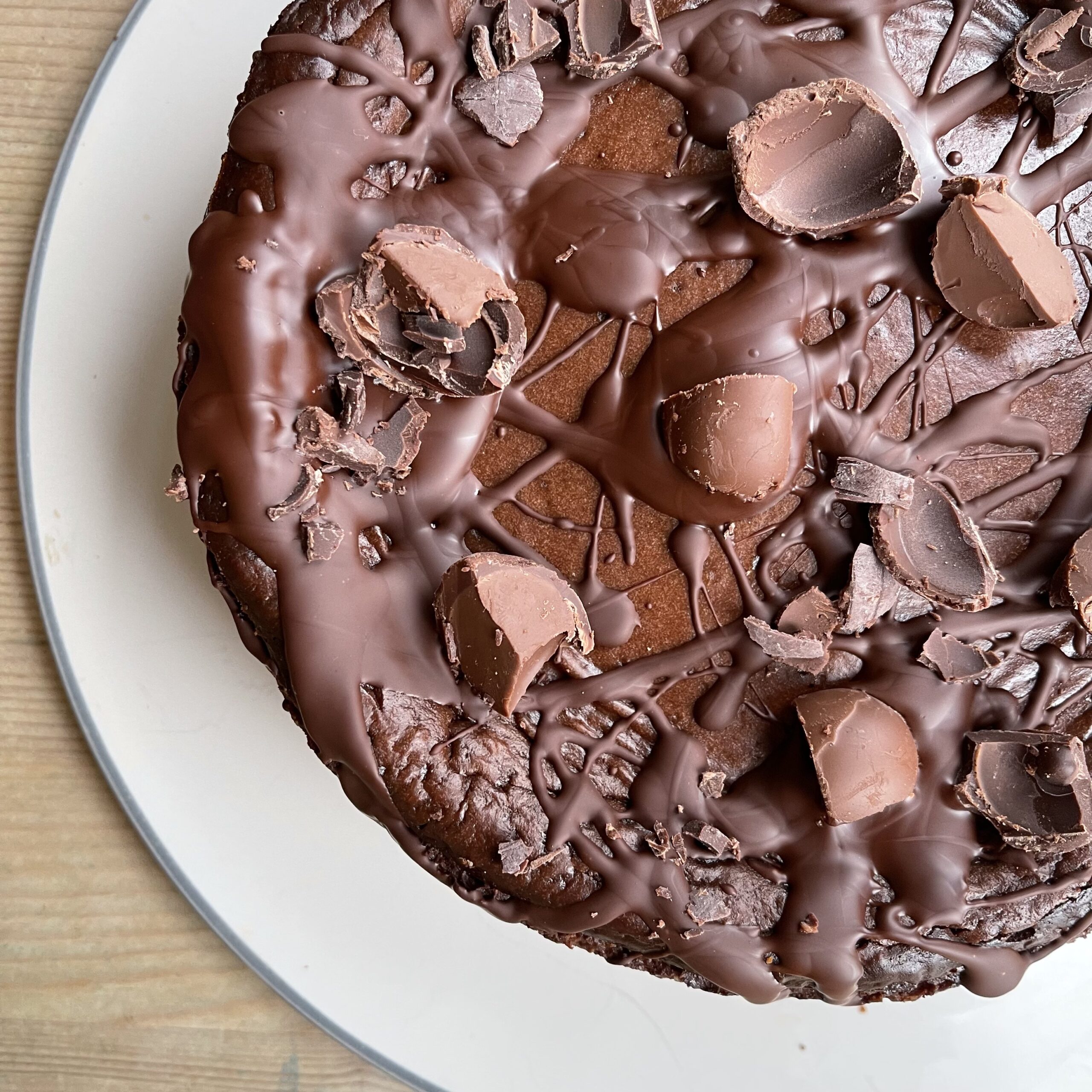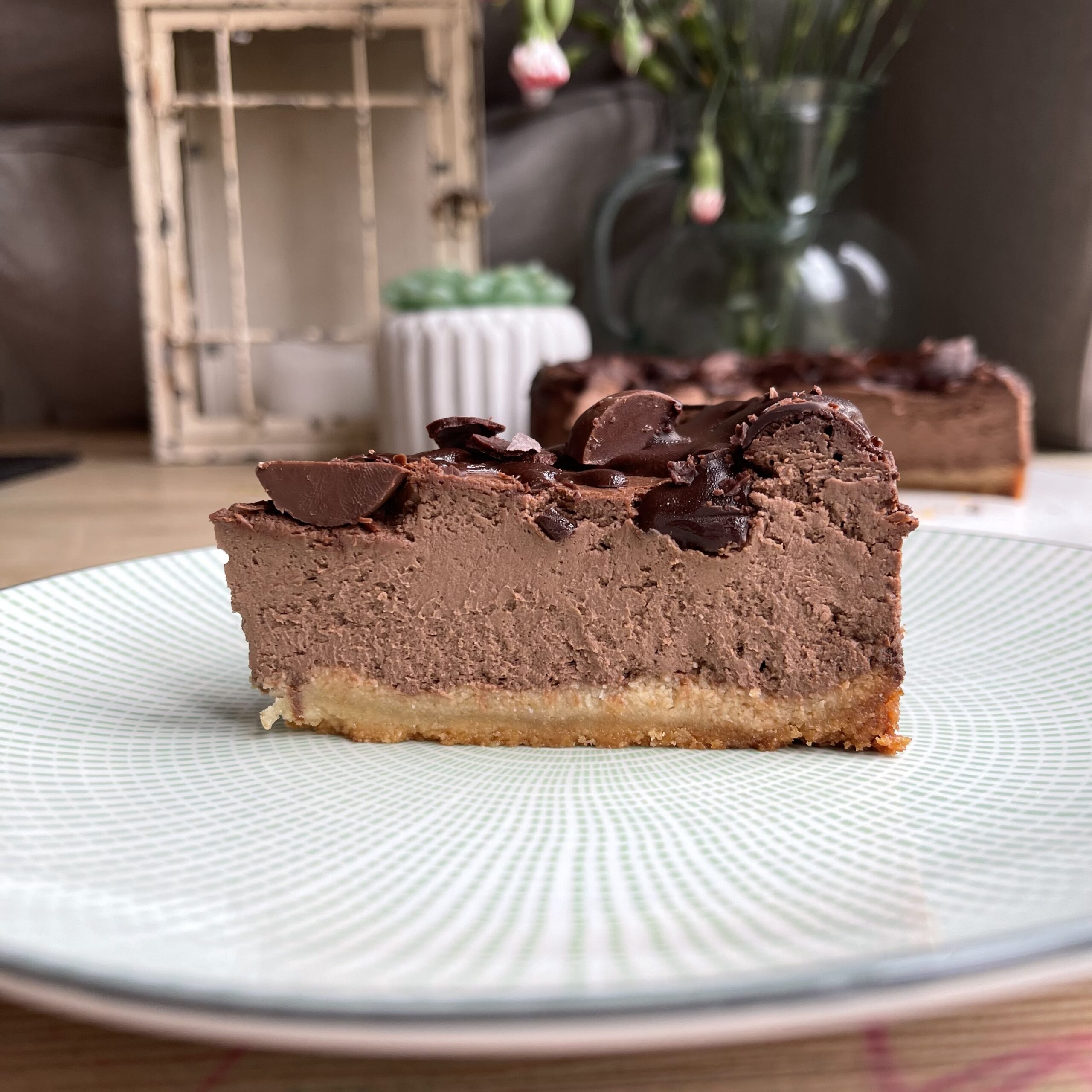 There are lots of ways you can reach me and please do because I love keeping in touch.
For cooking classes: Click here
For my cookbook: For 100 low-carb recipes, meal plans and lots of info as to the benefit of a low-carb lifestyle (especially for those with diabetes), then you can order a copy of our book here.
Email me [email protected]
Lifestyle coaching here
I love to see your creations on Instagram, Facebook, & Twitter