Two simple fruity bites for you and your family. Bites that take 20 mins to make, from start to finish.
I made a promise to my blog the other day, that I would add to it more. I feel like it might have, perhaps, lost a little of its identity over the last few years, since I changed the name. It was something I was told needed to be done in order to write The Low Carb Diabetes Cookbook, something I know now, wasn't necessary at all.
I was certainly ready to move away from Paleo (With Mrs P), but I loved the Mrs P bit a lot and I miss it, a lot.
I look back and realise that I used to blog daily at one stage. Obviously this was way before children happened! When time was plentiful! But, I used to love this as an outlet. I love writing, sharing and photography and I don't just want my recipes to be lost on social media!
I don't feel like I have quite settled in to the boots of The Low Carb Kitchen yet, I think there is still a little bit of change to happen. But for now I will be more active and give it and all the years of hard work that went in to it, some love.
Anyway, I wanted to share 2 simple fruity bites recipes today for these delicious squares. They really are quite special and SO easy to make. You probably have all the ingredients in your kitchen already. I found some similar square moulds on Amazon, here. Great for a picnic, breakfast on the go, party, canape or after school snack. Can you believe that Florence is meant to be starting school in September? No? I can't either….
Blueberry and vanilla and banana and cinnamon.
The blueberry and vanilla ones are my favourite. They are terribly moreish and moist. There are 2g carbs per square. I use a milled seed mix from Linwood, but you could use any milled seed of choice. The banana ones are of course a little higher in carbs (for those that need to know). I don't eat banana but, Florence and my husband adore them. 4g carbs per square. These are great for baby led weaning, for little fingers and adults too. If you want to use them as a base to add your own flavours you can do, just follow the blueberry and vanilla recipe and adapt as you wish. Some grated carrot or chocolate chips and orange zest would be great. You could even add a frosting.
The recipe is dairy free, grain free and gluten free. This hopefully helps lots of those with dietary requirements, those looking for a lower carb option (blueberry and vanilla), as well as being full of taste and texture.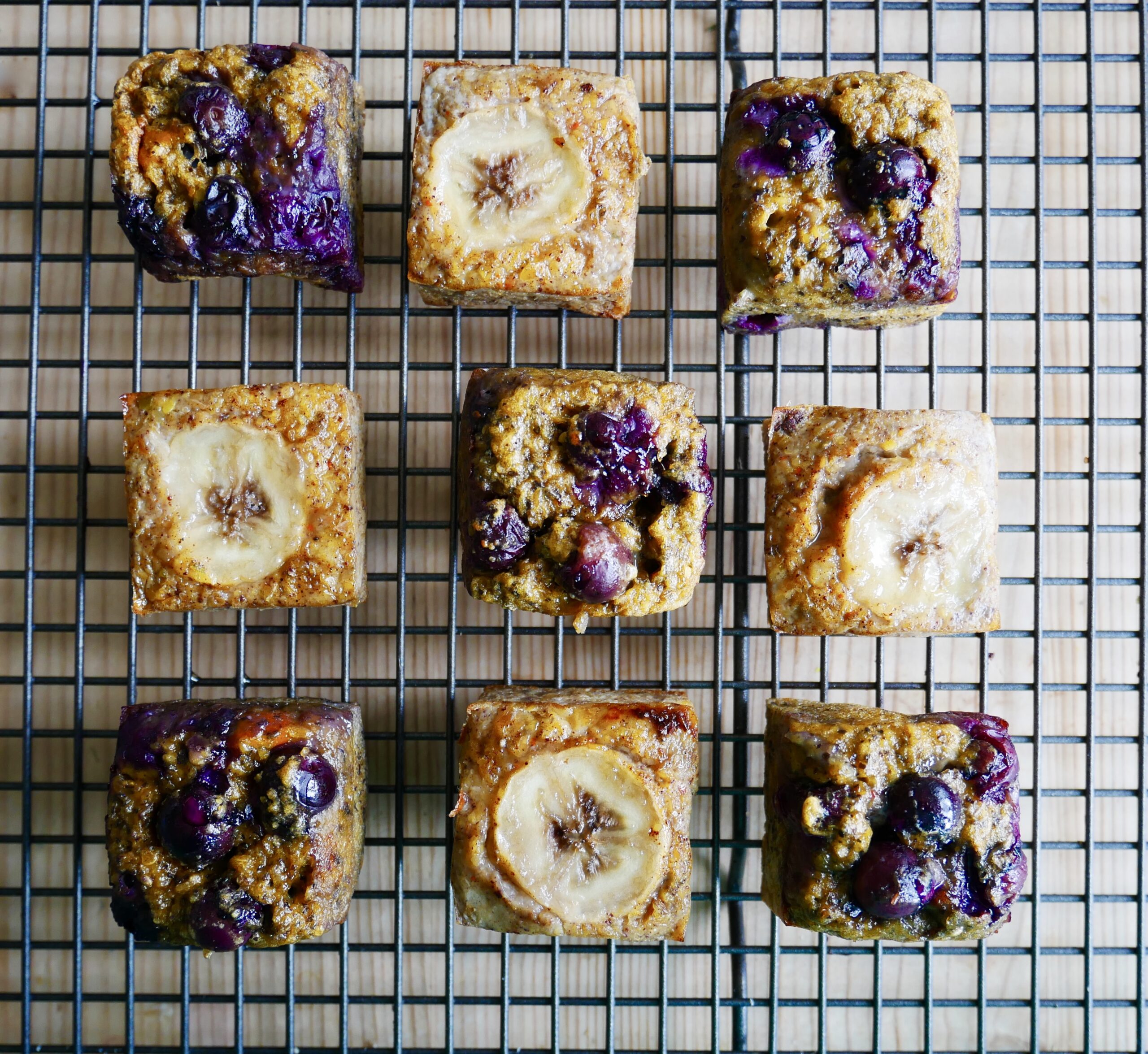 Simple Squares
Simple squares, which are dairy free, gluten free and grain free.
Author:
The Low Carb Kitchen
Recipe type:
cake, dessert, treat
Ingredients
Blueberry and Vanilla:
40g milled seeds
2 eggs
4tbsp milk of choice (your choice of milk)
2 tsp vanilla essence
1 handful blueberries
2tsp coconut sugar, optional
Banana and cinnamon bites
70g banana, mashed (plus a few extra pieces to decorate the top)
1 large egg
20g milled seeds
1tsp cinnamon
2tbsp milk of choice
Instructions
Blueberry and vanilla
Combine all ingredients
Spoon in to silicone moulds, pop a couple of extra blueberries on top of each one
Bake in oven at 180c for 15 mins
Banana and cinnamon:
Mash banana, add all other ingredients and combine.
Spoon in to silicone baking mould.
Pop a banana piece on top of each one.
Bake for 15 mins at 180c.
Notes
2g carbs per blueberry bite
4g carbs per banana bite
For 100 low-carb recipes, meal plans and lots of info as to the benefit of a low-carb lifestyle (especially for those with diabetes), then you can order a copy of our book here.