STOP THE PRESS! THESE COOKIES CONTAIN JUST 4 INGREDIENTS! Forget shop bought ginger nut biscuits which are full of grains, refined sugar, dairy and other nasties, these my friends are going to be the nicest cookies you have made all year. Not only is ginger great for aiding digestion, reducing nausea and helping fight off flu and the common cold, it is also the perfect addition to these cookies and gives them a delicious spicy warmth. A perfect plate full for the wintry nights, sat in front of a log burner with a good movie.  The best thing about this cookie recipe is that you can quite literally substitute the ginger for ANYTHING you like. You could even make the cookies plain with just three ingredients (nut butter, coconut sugar and 1 egg!) or why not add in some vanilla, raisins, cranberries, orange zest etc, jazz them up and go wild!
As you have all probably worked out by now I am a huge fan of nut butters. I put them in to smoothies, curries, energy balls and now they have formed the base of my new cookie recipe. The option for nut butter is entirely up to you, I have tried the recipe with almond (crunchy and smooth) and cashew nut butter, but I am sure if you wanted to use peanut butter or hazelnut butter, or even a seed butter for those who suffer from nut allergies then this would work well too. I usually buy nut butters in the 1kg tubs, just because I use them so much and they are much more affordable that way. It's crazy how much some nut butters sell for, (I've seen 170g jars selling for as much as £6.99 a jar).  It's completely ridiculous and elitist and makes a mockery, in my eyes, of the consumer. If you can make almond butter yourself, then do, it's simple and much cheaper but I realise that it's sometimes easier just to pluck a jar from the shelf or click "buy it now" from an online shop! The nut butter that I am particularly obsessing over at the moment is by an online company called Bulk Powders (they ship UK wide and Internationally too!). I will only ever do shout outs to brands I like and have used for a while (I am my own guinea pig!). I think they are a brilliant brand and their nut butter range is by far one of the best I've tried. Their 1kg tubs are very reasonably priced too at £11.99.
Back to the cookies, the texture of them is my favourite part as they are so chewy and have the perfect crunch on the outside but then the delicious chew factor. I have tried so many paleo cookies in the past that just crumble and don't taste right, with you being left wildly disappointed and seeking the closest shop to indulge in the real thing. However, with this recipe you will never have to go to a Millie's Cookie stand again. Get your friends, kids and grandchildren involved and make baking with good ingredients fun!
Gingernut Cookies (4 ingredients)
The simplest cookie recipe on the internet, chewy with the warming spice of the ginger. These are seriously delicious and very simple to make.
Recipe type:
Cookies, Kids, Biscuits, Treat, Christmas, Halloween, Birthday
Ingredients
200g / 7.05 oz Nut Butter (I used cashew nut butter in this recipe)
2-3 tsp Ground ginger (depending on how strong you like it)
1 egg (Medium)
100g / 3.5oz Coconut Sugar
Pinch of sea salt (optional)
Instructions
Pre-heat oven to 200°C / 392°F
Have a cookie baking sheet ready with greaseproof paper on it
In to a blender place the coconut sugar, ginger (& optional sea salt) and blend until fully combined
Add in nut butter and blend until fully combined (it will be clumping together)
Now add egg and allow to blend until it has all come together in to a cookie ball (if it doesnt, don't worry, just stop once it's all combined)
Taking ping pong sized balls roll together in your hands and then place on baking sheet, press down in to desired cookie shape, keep them about 1 inch apart from each other as they will expand (The thinner you make them the crispier they are so I like to make mine about 6 mm thick so that they remain chewy)
Place in oven for 12-14 mins until golden brown
Remove and LEAVE to cool for about 20-25 minutes to firm up or until you can pick one up easily (you mustn't try to move them off the sheet when they first come out as they need to solidify)
Keep in an air tight container for up to one week
Notes
Feel free to substitute the ginger powder for anything else....cacao, cinnamon, vanilla, nutmeg, pumpkin spice, apple spice etc. You could even add something in to it like raisins, cranberries, orange zest etc- just be careful to have the baking tray in the middle of the oven if you do this so that the tops do not burn.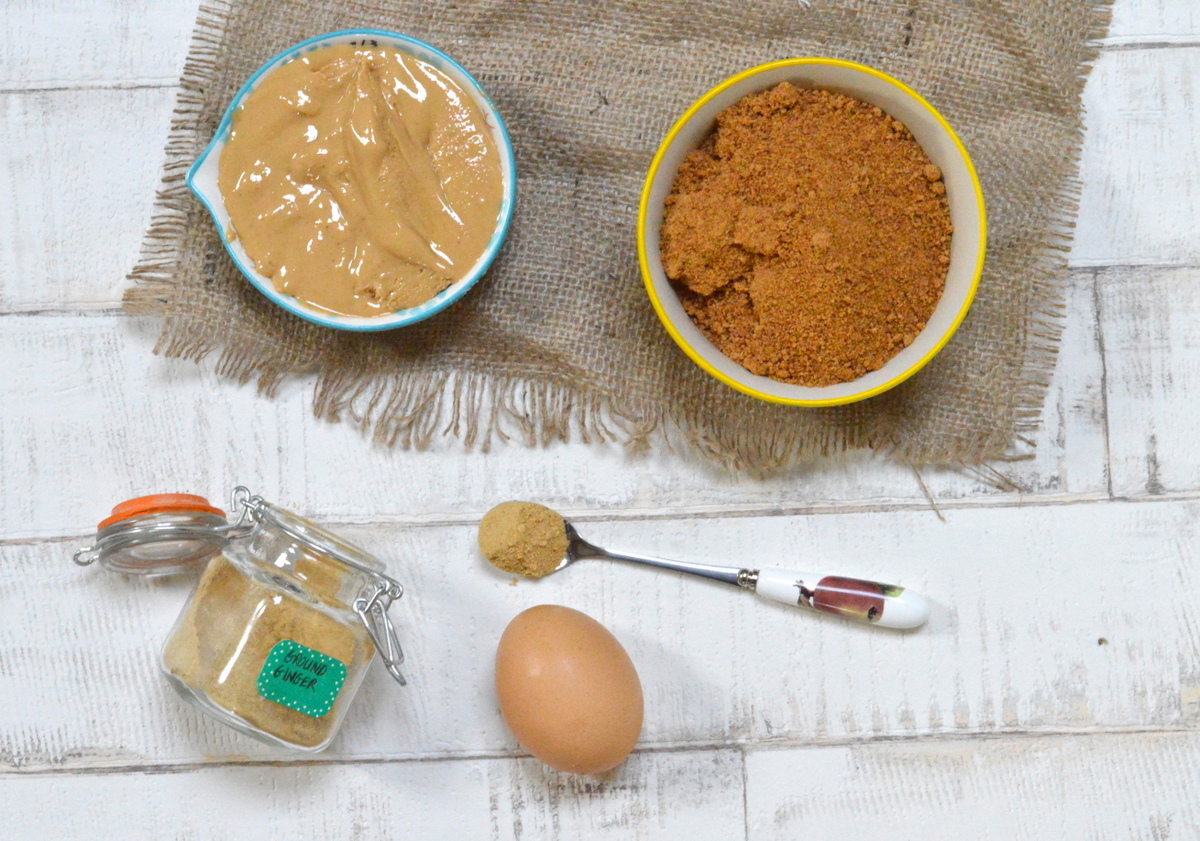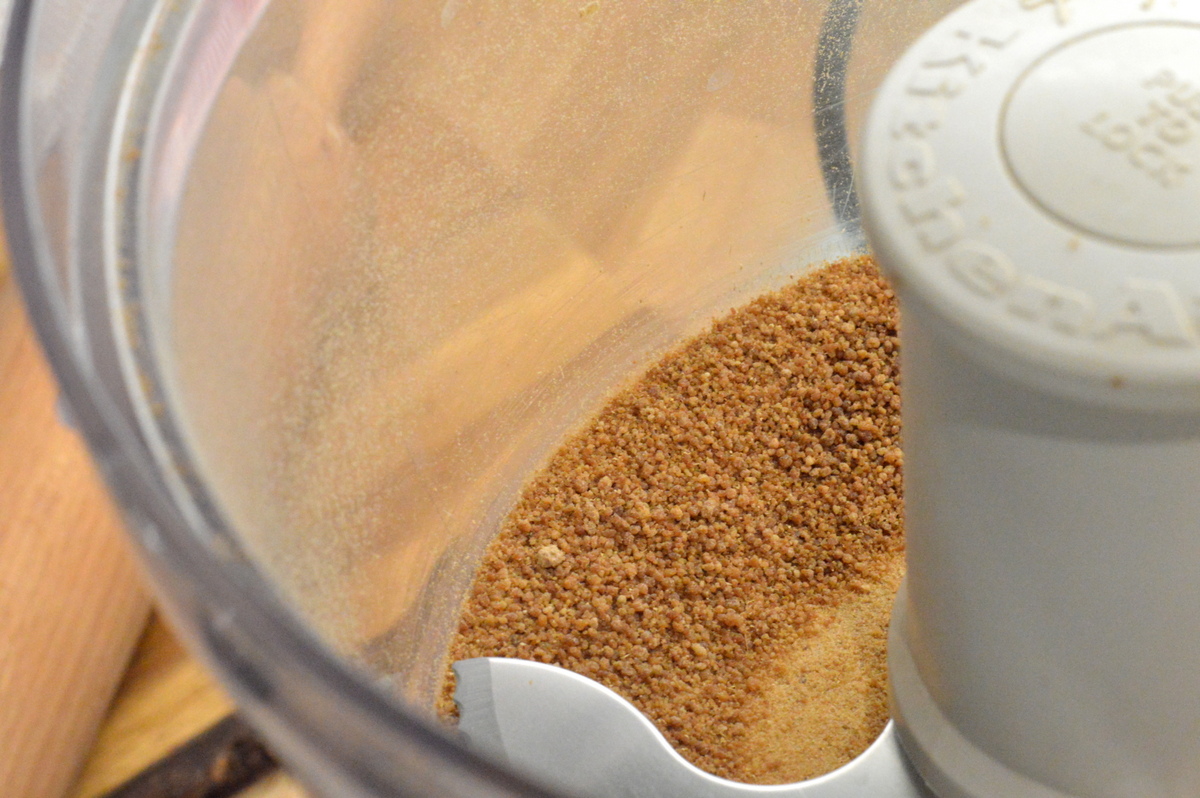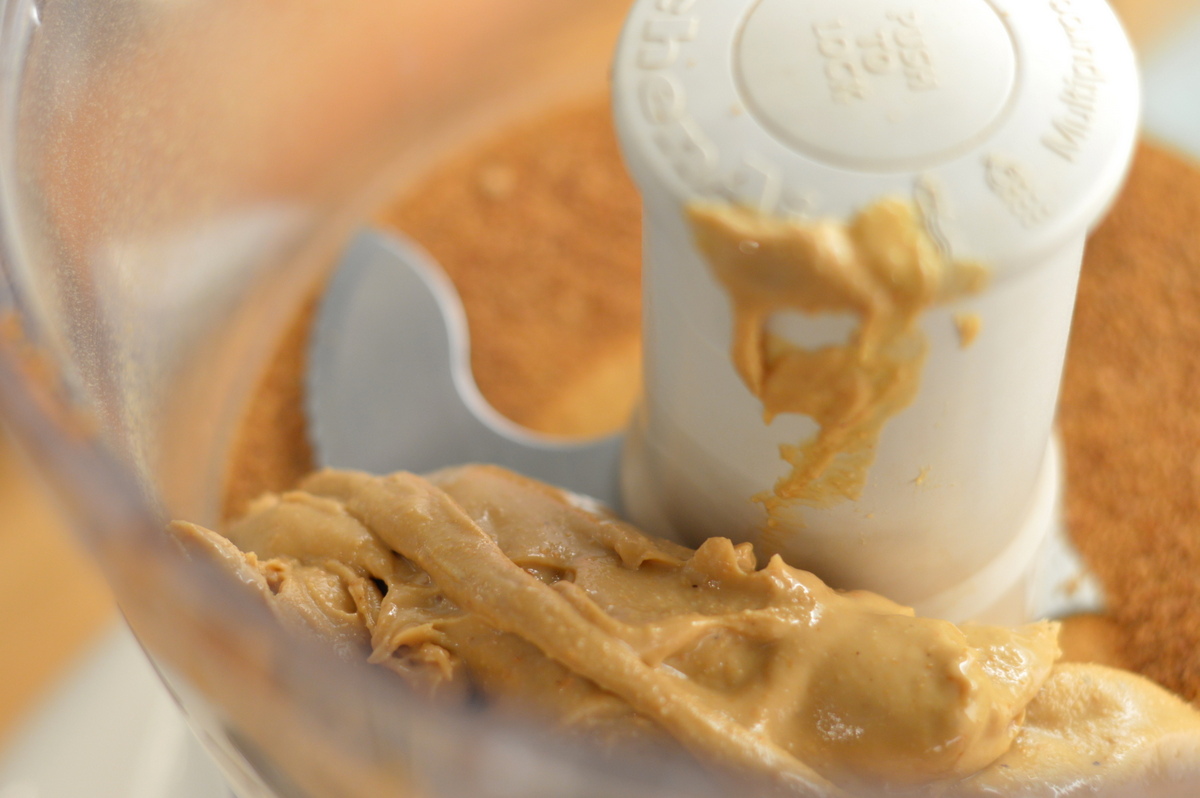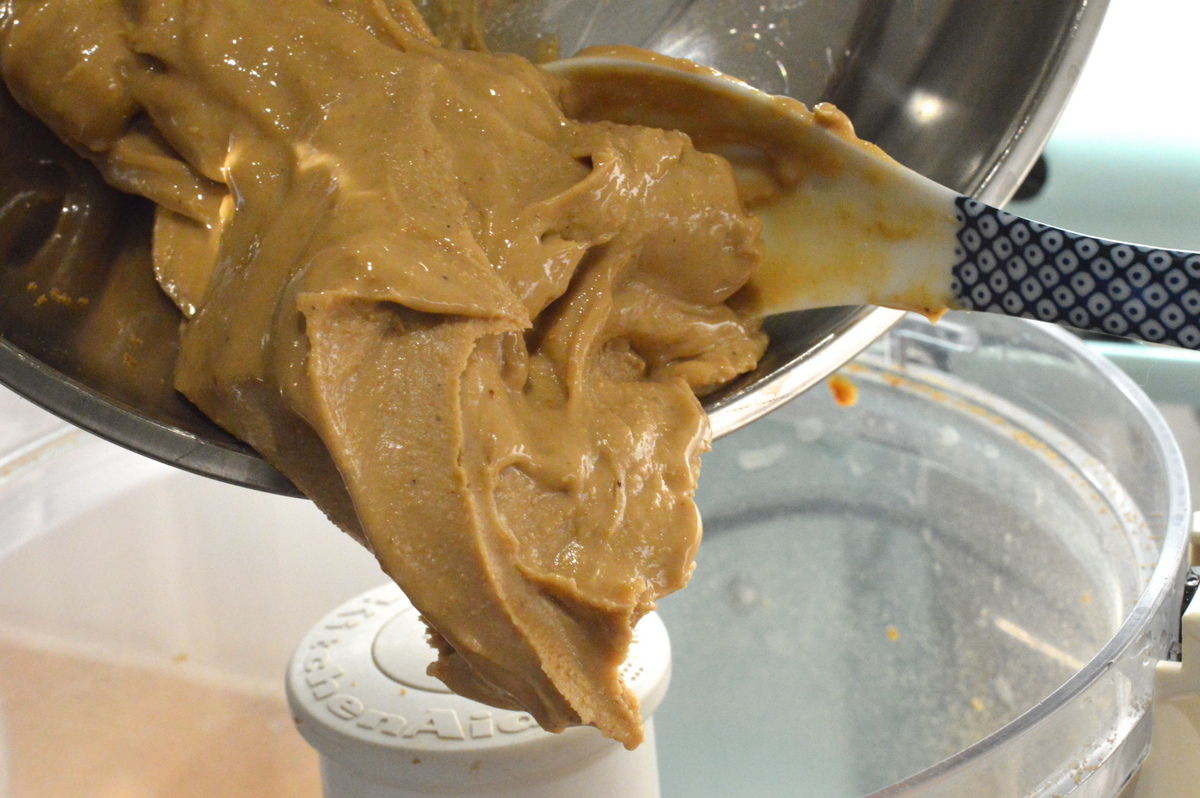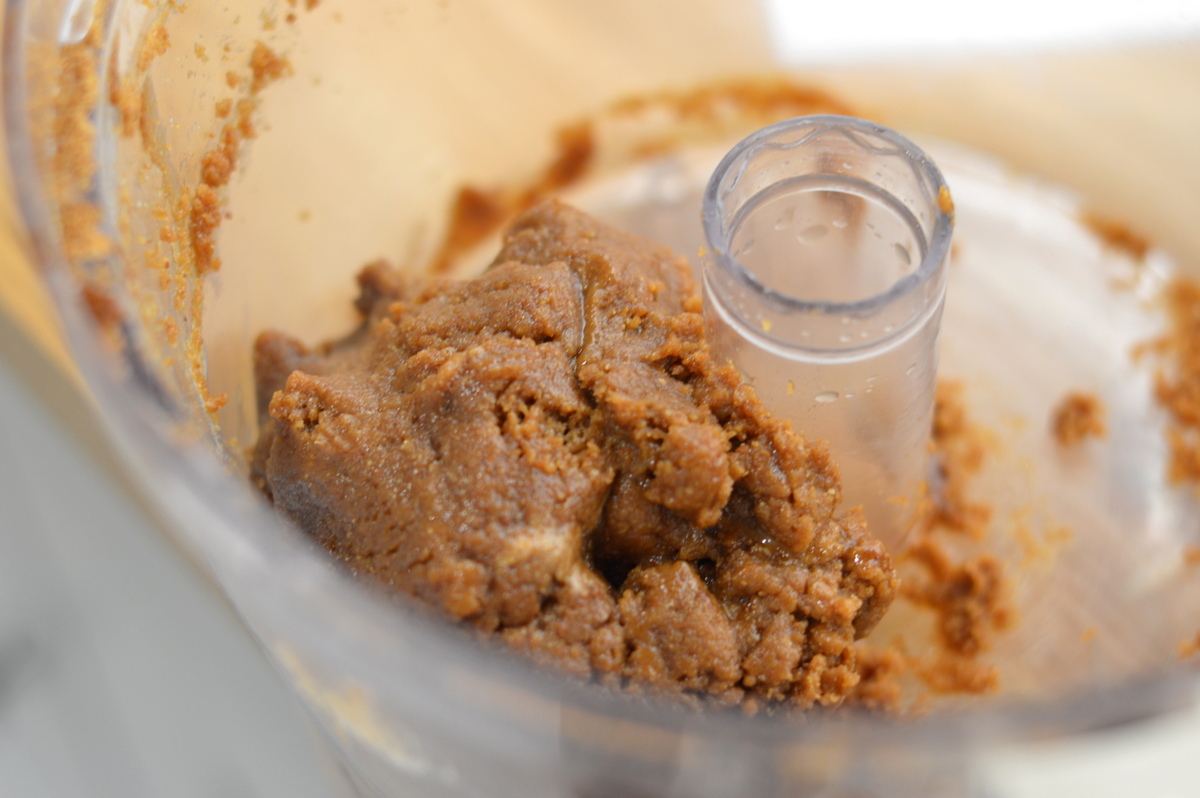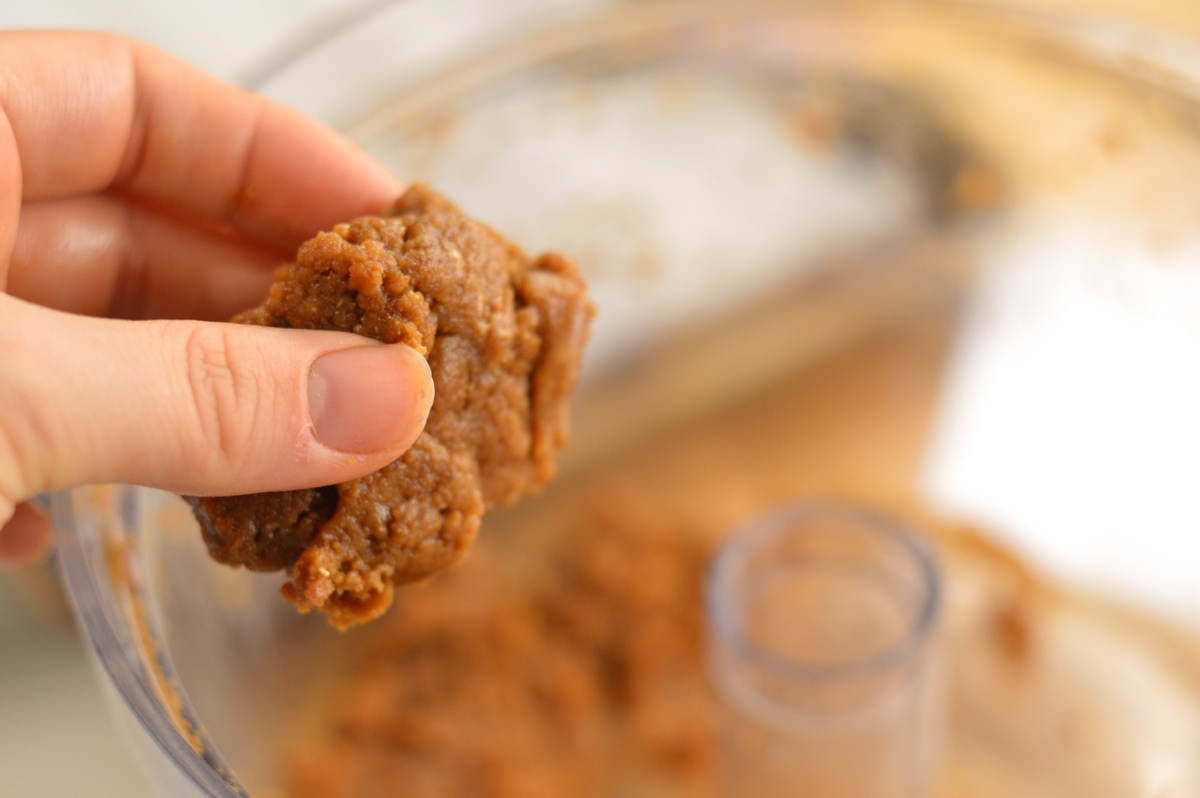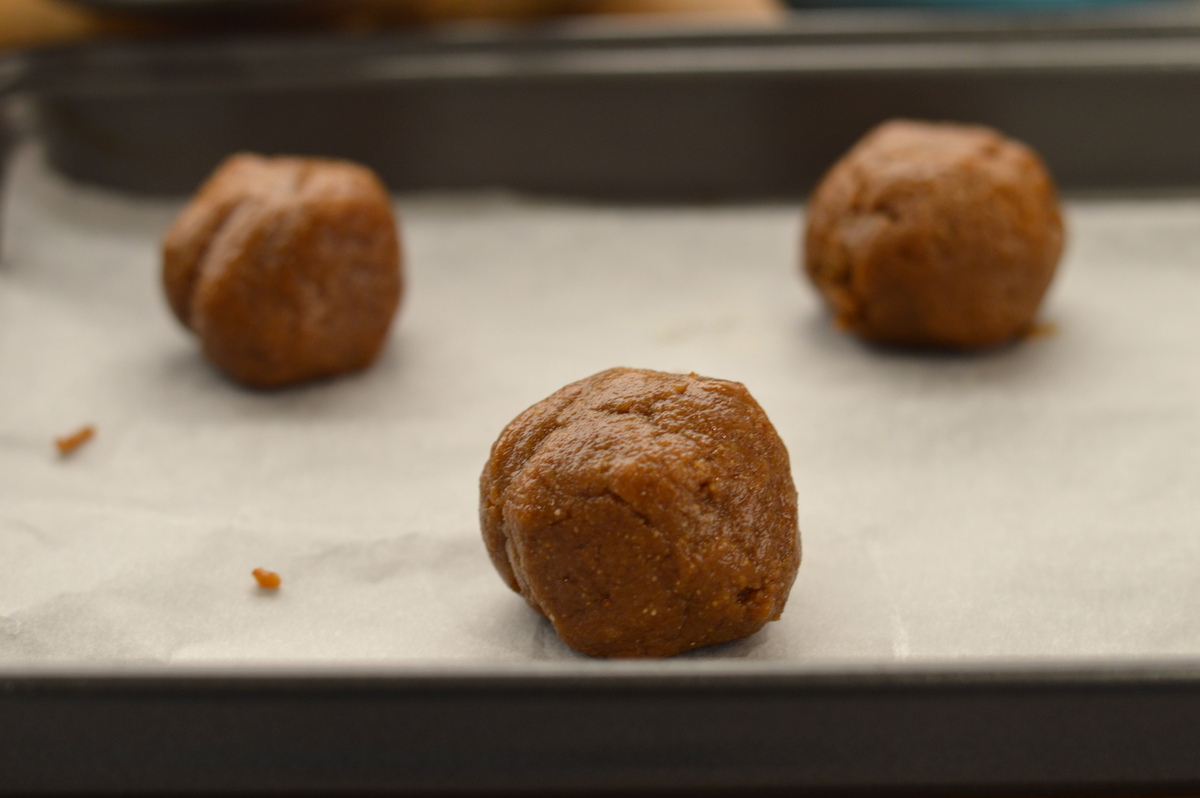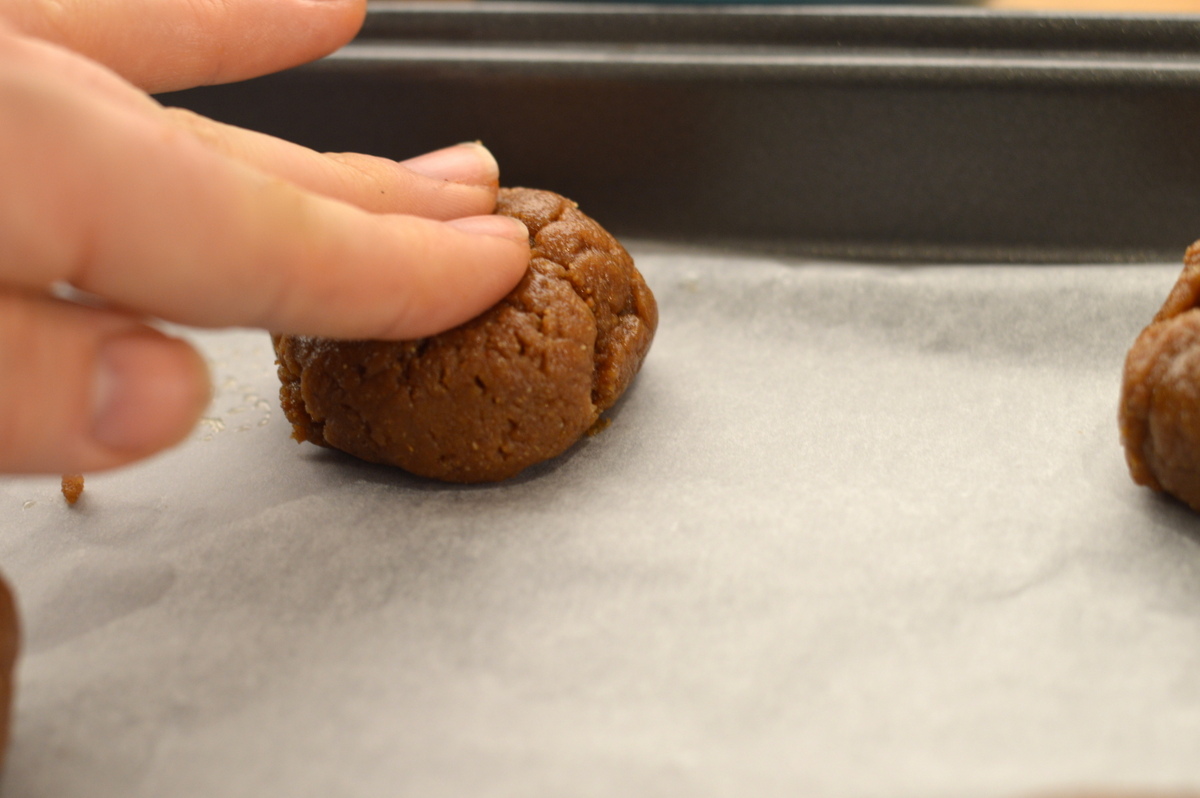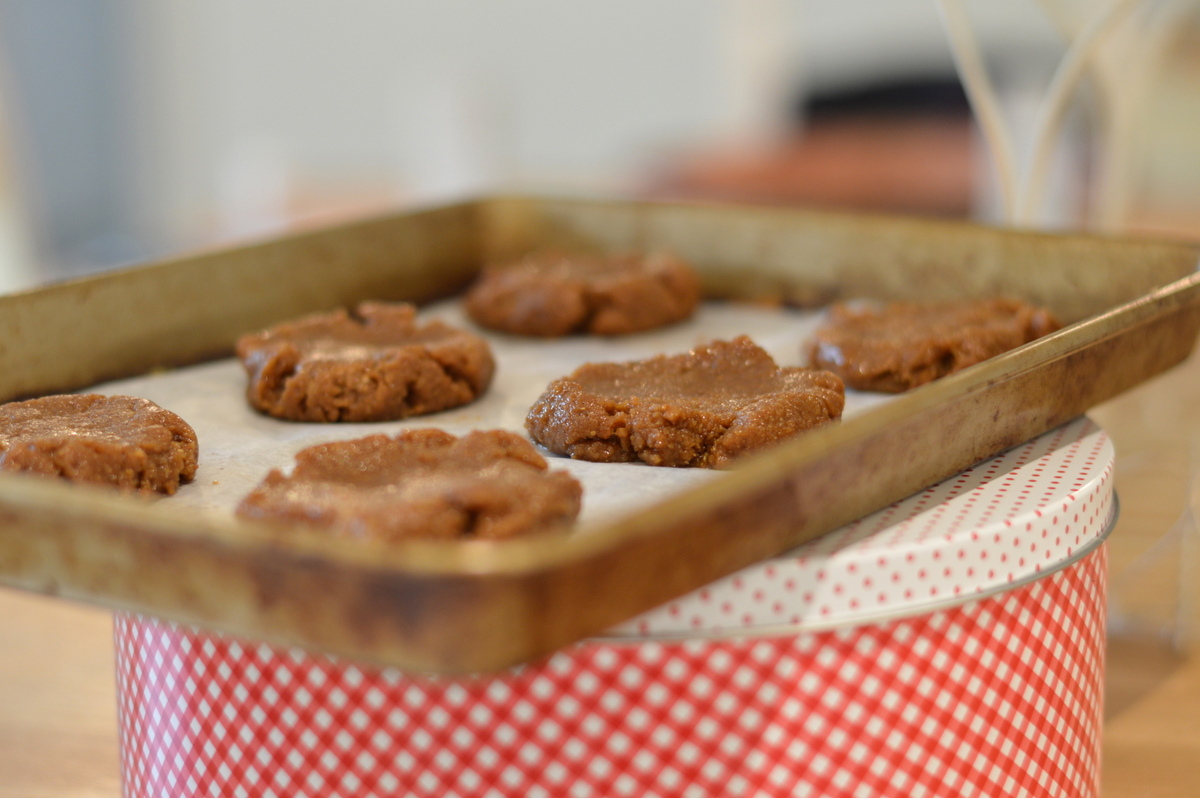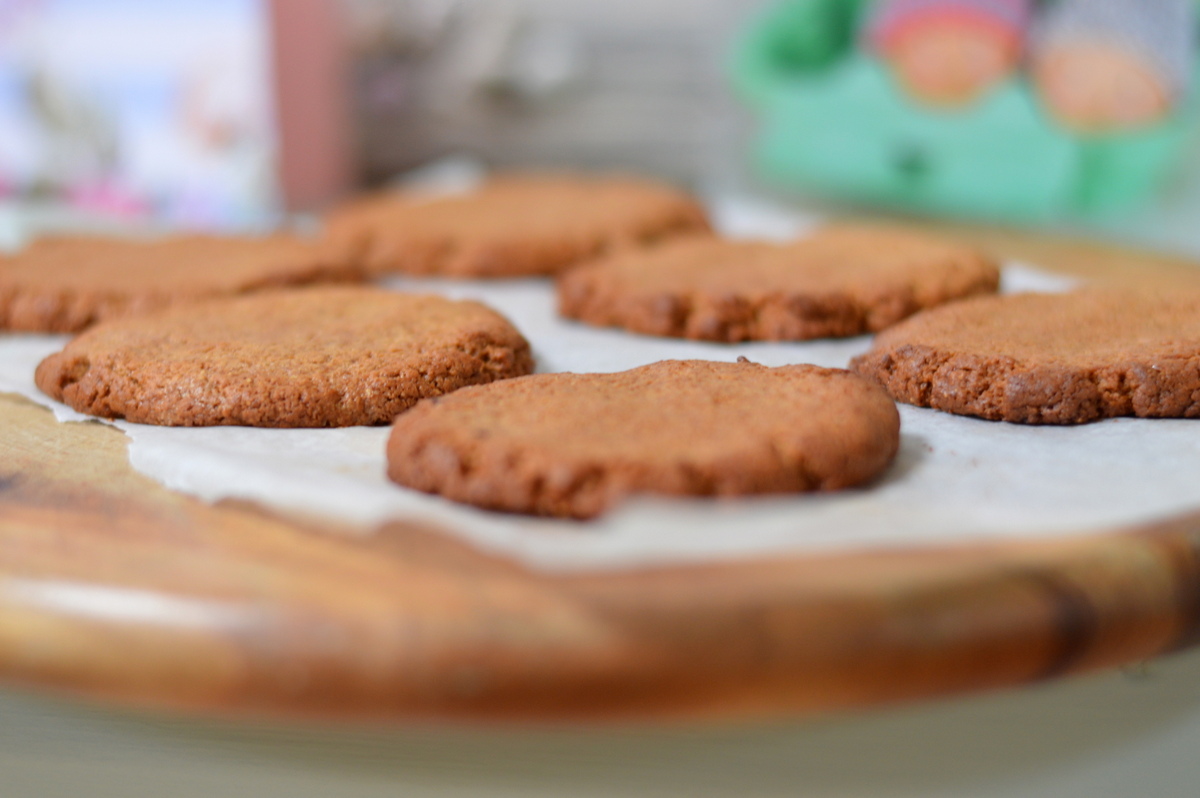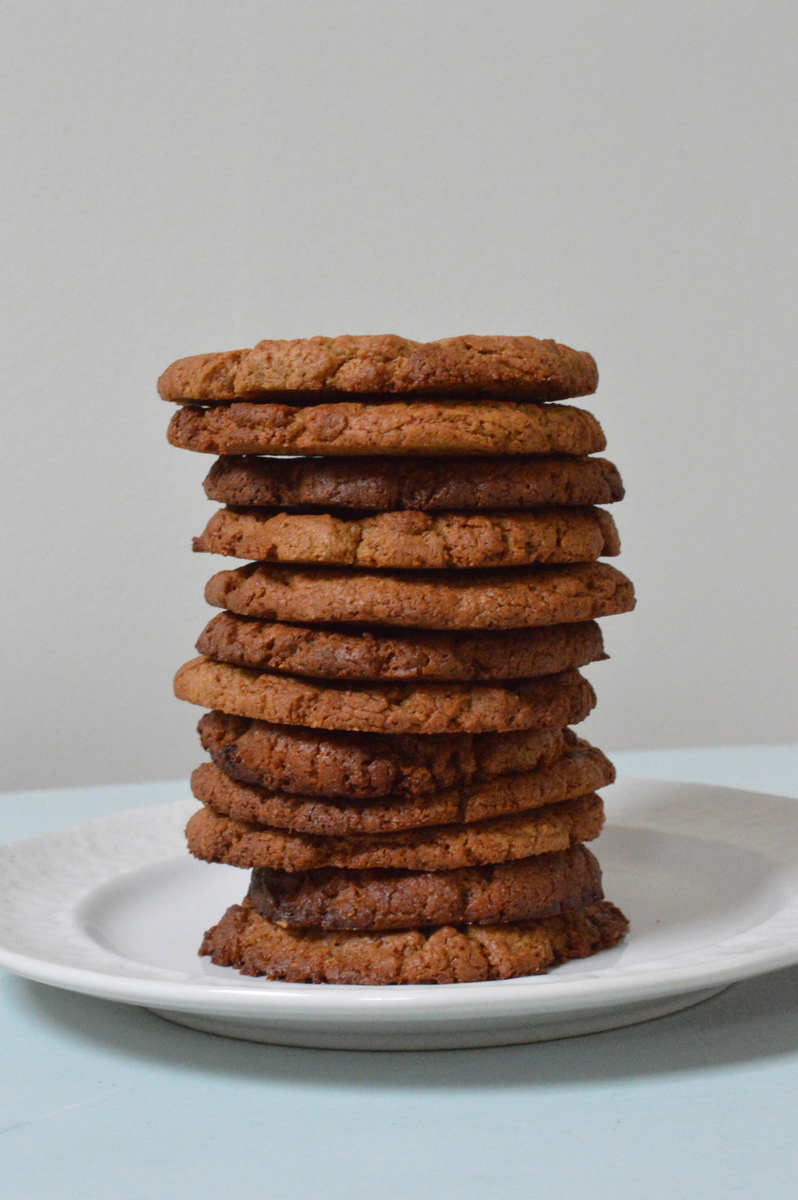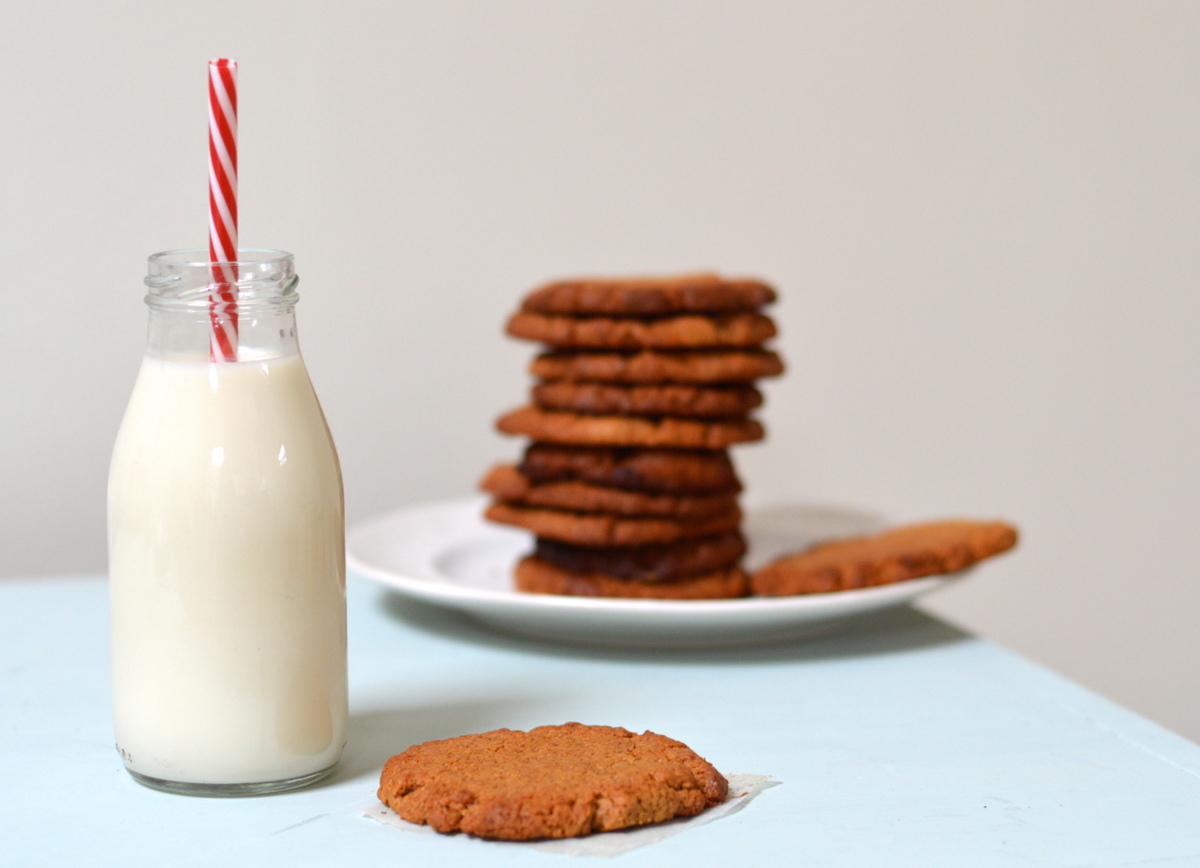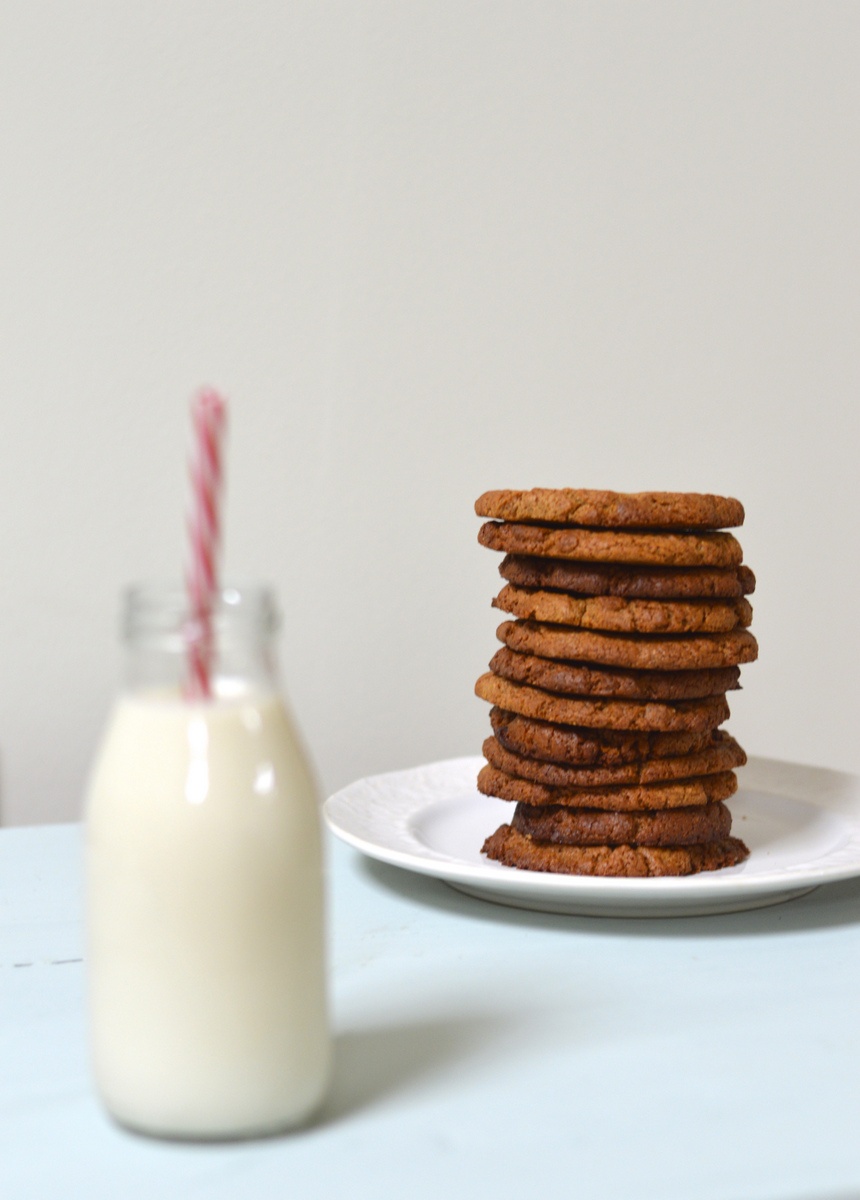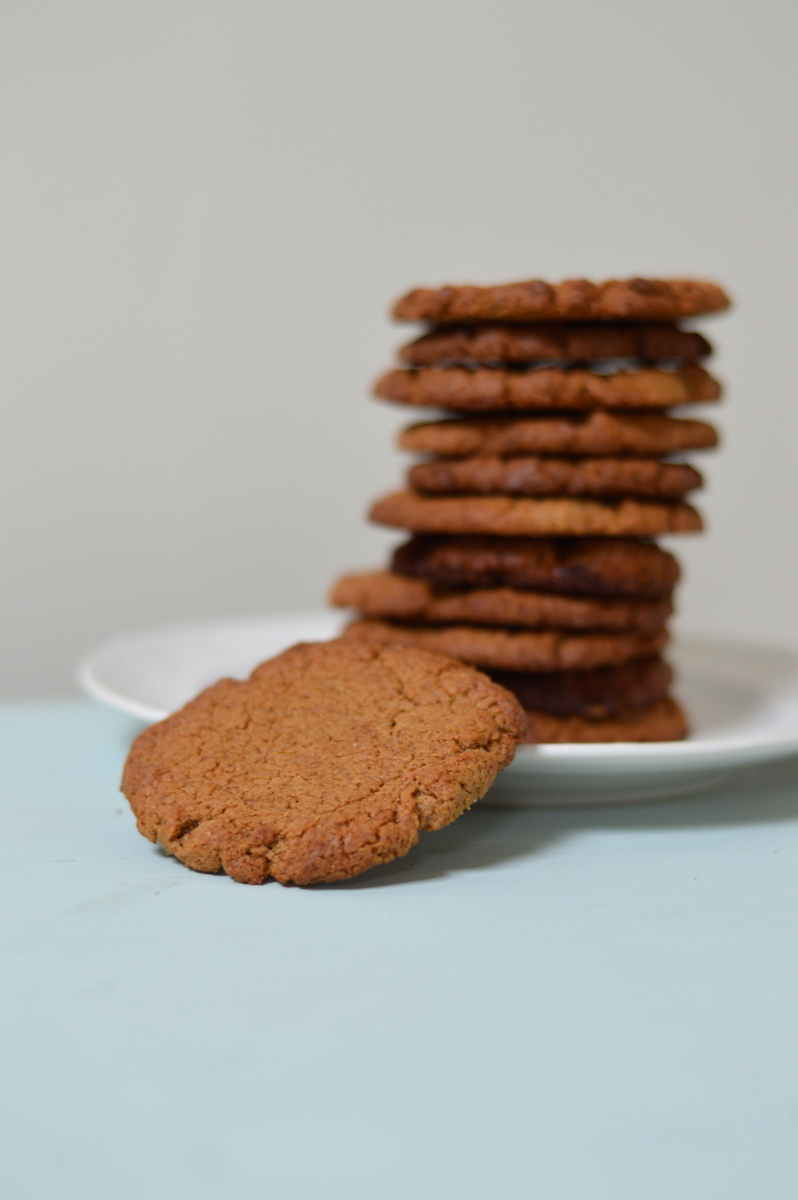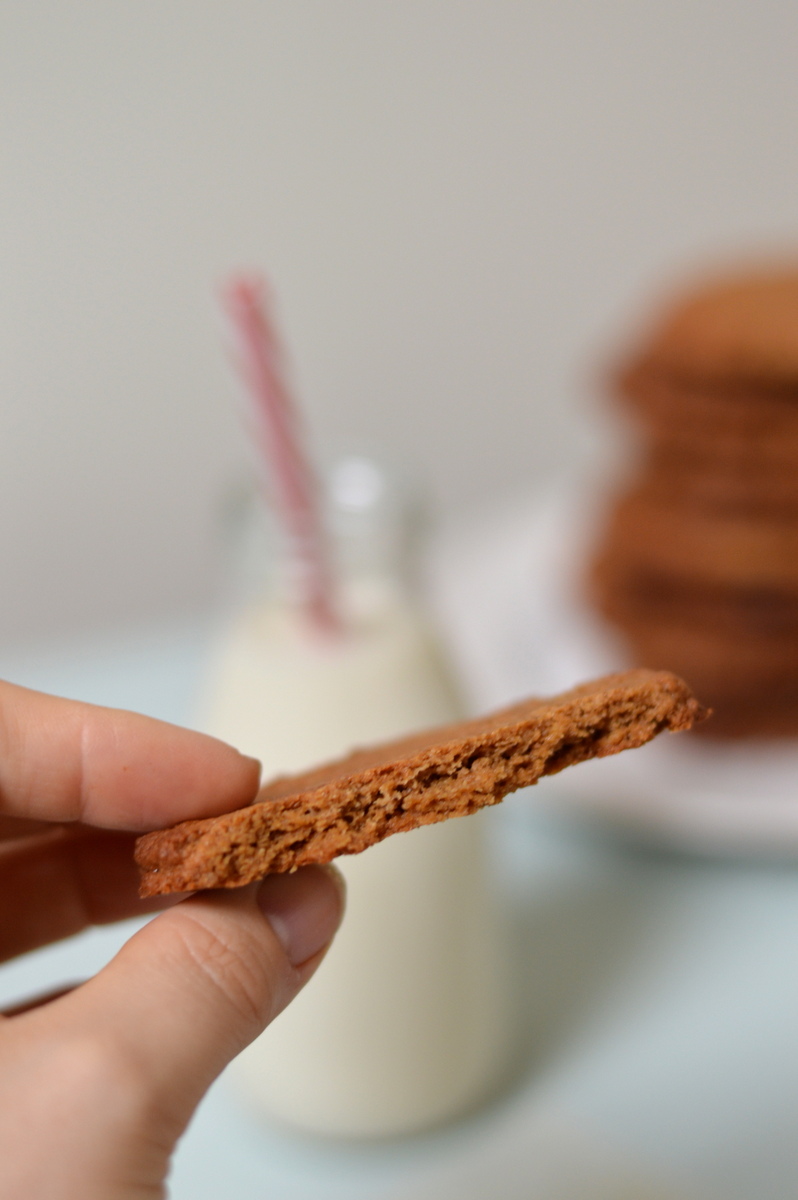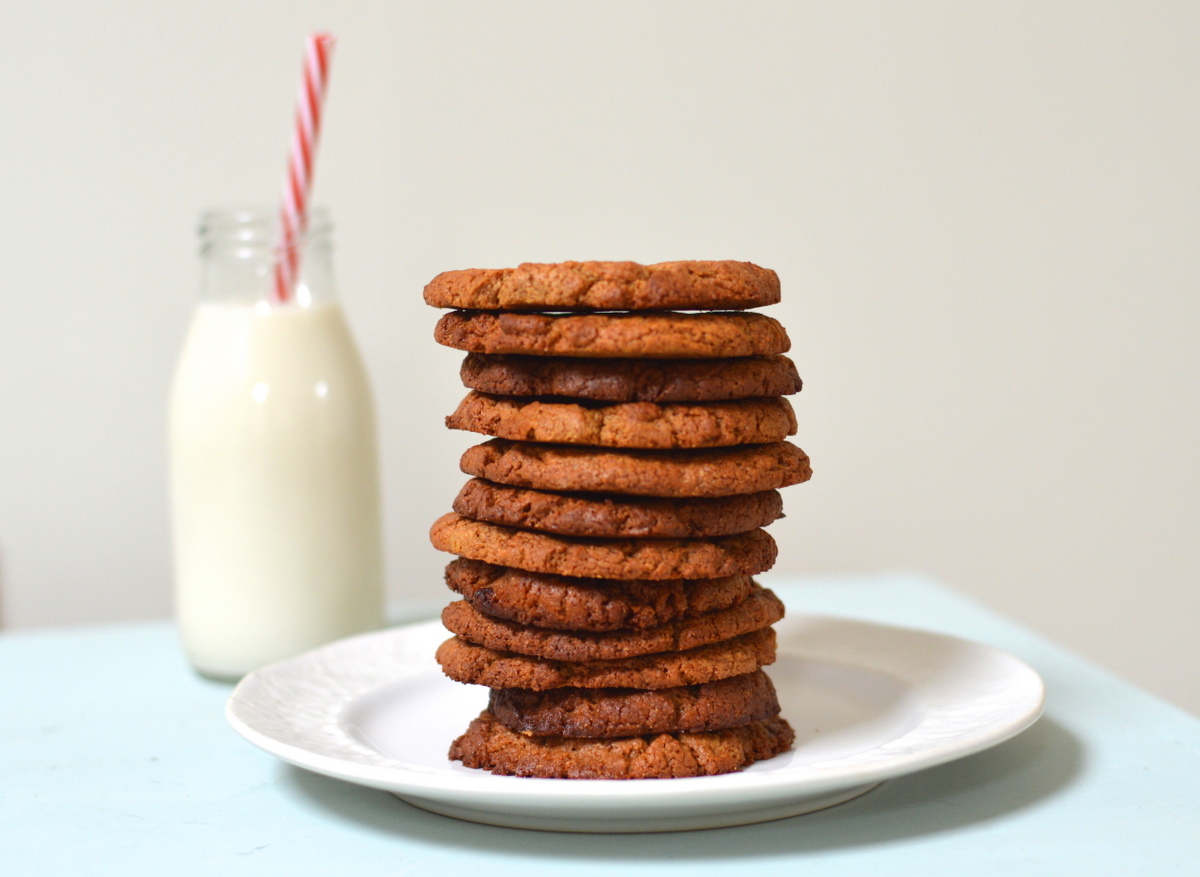 I have not been endorsed for any brands mentioned in this blog post. 
 ALL RECIPES, DESIGN AND PHOTOGRAPHY COPYRIGHT PALEO WITH MRS P ©